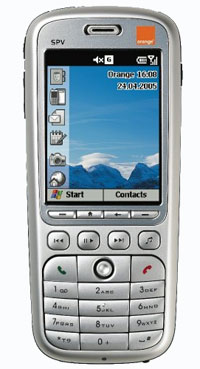 It's been a long time coming, but Orange have finally announced that their Windows Mobile-powered SPV C550 smartphone will go on sale later this month
The "Orange SPV C550 Great for Music handset" – to give its full name – is a compact mobile offering full smartphone functionality and a digital music player, sporting dedicated play, rewind and fast-forward keys.
Sporting a natty brushed aluminum finish, the phone can store up to 170 (presumably very short) music tracks on a removable 128MB mini SD memory card and comes pre-loaded with Orange Music Player, compatible with AAC+, WAV, MP3 and MPEG-4 formats.
The player integrates with the Orange World portal where Orange are hoping punters will be tempted into shelling out for some of the 300,000 music tracks available for download.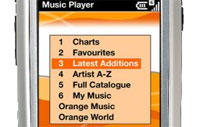 Songs downloaded through the phone's Music Player software are DRM-protected, although the built in Fireplayer application will let punters remix their fave tunes into ringtones.
Media playback times for the C550 weren't announced, but Orange's own figures put it at 4 hours of talk time and up to 6 days of standby time.
The device, codenamed Amadeus, is a tri-band GSM 900/1800/1900 MHz affair that's big on connectivity, offering GPRS Class 10, USB, Bluetooth and Infrared.
There's an integrated 1.3 Megapixel camera wedged into its diminutive 108 x 46 x 16 mm case, and the whole caboodle weighs in at a pocket-unruffling 107g.
With the smartphone being built around Microsoft's Windows Mobile 2003 platform, it's easy to blast off emails on the move and synchronise contacts, diary and calendar information with your desktop PC.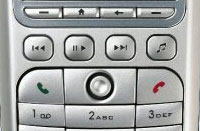 Matthew Kirk, Director of Devices at Orange was ready and willing to spin out the PR schmooze: "Since the launch of the first SPV handset three years ago, Orange has led the development of smartphones and provided its customers with a choice of the latest and most powerful devices. The Orange SPV C500 was the world's smallest smartphone and today its successor provides the first realistic alternative to carrying around a separate MP3 player, phone and PDA."
The SPV C550 joins Orange's growing SPV range of Windows Mobile-based devices, which includes the SPV C500 phone, SPV M2000 PDA and the recently-launched SPV M500 mini PDA.
Pricing details are yet to be announced, but will, as ever, be dependant on contract.