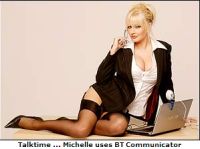 We had a report from a reader today that he'd been … ehm, carrying out tests on his content filtering service. This entailed going to sites with photos of naked bodies – purely to test that the content filter blocked his access to them you understand. One of first sites he went to was the well known UK tabloid, The Sun.
Clicking through a few pages he was somewhat taken aback to find a scantily clothed woman leaning over a computer, promoting BT Communicator, which is BT's software-based VoIP (Voice over IP) offering. When it launched, one of our writers, Fraser Lovatt, looked at BT communicator and wondered quite why the product existed at all,
"It certainly won't make it cheaper as BT will bill you at exactly the same rate they bill for calls from your home phone, despite giving a clear warning on their site that PC calls aren't as good. So, I have to ask – what's the point?"
It would appear to us that BT's confidence in their BT Communicator product seems to have hit an all-time low today with its appearance in The Sun.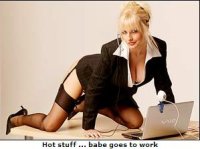 The piece in the Gizmo section of the site and paper features BT's new model to promote BT Communicator, Michelle Marsh.
In her excitement to use the product, Michelle has fortunately remembered to don her headset, but sadly has put on her school shirt (it's a little tight) and then forgotten to wear a skirt.
This is the wording they used in the article ..
"Marvellous Michelle Marsh has been signed up by BT to front (and let's face it, she's got plenty of it) a campaign for its Communicator service.

The luscious lovely is plugging the virtues of BT Communicator with Yahoo! Messenger, technology that allows you to phone, text, email and instant message from your PC.

And the stunner is doing it as only she knows how – dressed up in stockings and suspenders as a saucy secretary."
Classy isn't it. Lots of mentions of commercial products in there, not the sort of copy that falls out of the finger tips of a tabloid journalist. Surely BT aren't using advertorials in The Sun to promote Communicator to the masses?
Looking at Ms Marsh's previous work, it's clear that she's a busy little bunny. Her extensive career features the expected large variety of lads mag, car and bike mag shoots, but also extends to a photo shoot in Blackpool for the Tory party conference. Interestingly earlier this year she did the press launch for Bulldog Broadband – a big competitor to BT.
So is this a desperate ploy to try and promote a product that has no reason to exist? or have we go the wrong end of the stick?