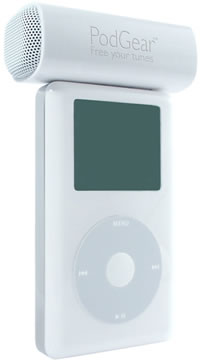 PodGear PockParty
The PocketParty is a speaker unit that plugs onto your iPod (1st generation iPods aren't supported). It's a white lump about 3 inches long and 1 inch square with 2 speaker grills at either end. It holds an AA battery and claims to have about 10 hours life per battery (it's rated at 1W).
Having its own battery should mean (as claimed) it doesn't use the battery of the iPod, but since it's driven through the headphone output means there must be some drain on the iPod itself.
There's a little switch on the side that allows the unit to be turned off which should conserve power when not in use.
PocketParty – a party in your pocket!
The PocketParty is reasonably loud, however it's not a replacement for a set of external speakers. Using it in your car is going to be a disappointment, engine noise will drown it out.
You're not going to be able to hold an open-air rave in the middle of a field with it, unless it's just for a small collection of friends.
Where it can sound fine is in a tent or some other quiet environment not distracted by other noise.
Settings the EQ makes a huge difference, the PocketParty can sound quite flat (the speakers are only an inch square), using in dance mode made it sound fuller.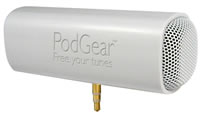 Is this something to buy? It's VERY convenient as it's so small and does easily fit in your pocket (as the name suggests) and it can be heard by a a group of people in the right surroundings.
It's not going to burst your eardrums, but then that's probably a good thing.
Star rating: 3/5


NOTE: To hear anything the iPod volume had to be set at least half way, to get reasonable volume at least 3/4's. This was on a European iPod which have their max volume scuppered due to EU regulations. There are "hacks" that can be found to remove the EU limitations and allow the volume to be cranked up to the same levels as the people with bleading ears in the US.