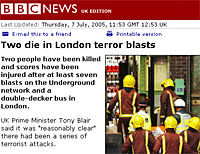 Mobile phone networks in London were overwhelmed for several hours following a series of terrorist blasts across central London.
As news of the attack spread, networks were running at near capacity as concerned Londoners reached for their phones to check up on friends and family.
The huge surge in the number of calls caused problems over mobile networks with many people unable to connect the first time, if at all.
Vodafone said it had reserved some network capacity for the emergency service workers dealing with the disaster, with a spokesperson adding, "because all our switches are at capacity, we need to ensure police and emergency services can communicate.
It would be a section of the network across London, so people can still make calls but it will be more difficult to make a call."
SMS text messages were, however, still getting through due to its simple store-and-forward mechanism.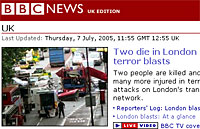 As with 9/11, many people turned to the Web for news and updates, resulting in major news sites struggling with the enormous surge in traffic.
News sites like the BBC and Sky both suffered slowdowns or brief periods of unavailability.
Bloggers were also quick to report the news, with the blog tracking service Technorati stating that there were more than 1,300 posts about the explosions by 1015 GMT.
When we looked for updates, we found that Technorati's Web site had also gone down at 1300GMT.