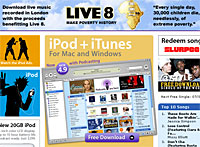 Hot on the heels of the hugely successful Live8 concert in London, Apple's iTunes Music Store has made the opening performance of The Beatles's "Sergeant Pepper" (sung by McCartney with U2) available for purchase through its store.
With the Guinness Book of Records monitoring proceedings to see if the venture qualifies as the fastest-ever global release of a live track, the speedy release reveals how digital technology has vastly accelerated the distribution of content.
Straight after the live performance, the opening track was transmitted by satellite to BBC TV Centre in London and then relayed to UK radio broadcast company, Capital Radio.
A direct digital recording was captured there for Universal Music, which edited, mastered and transmitted the track to its production centre in Hanover, Germany.
The final master was forwarded on to Universal's global electronic distribution warehouse in the US, and made available for real-time delivery to online retailers around the world, ready to be purchased as the "first Live 8 download",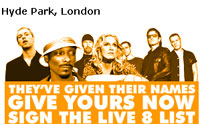 Distribution is to be exclusively digital, so there will be no physical product. All profits are to be donated to Live 8, "and the fight for the future of Africa", according to the iTunes Website.
A further message on the site reminds users: "100 artists, a million spectators, one billion viewers, and one message: stop extreme poverty in Africa".
Despite battling hard with unhealthy levels of cynicism all week – a feeling not helped by Apple's self-serving publicity and the presence of Bill Gates at the Live8 show itself – I can only applaud anything that raises awareness of the obscene disparity of wealth in the world.
Let's just hope that people don't think that downloading the track is anywhere near enough.