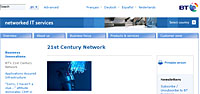 Their glorious football team many not be first at anything much these days, but BT have announced that Cardiff and the surrounding area will lead the UK with the implementation of their 21st Century Network (21CN).
The £10bn investment will roll out the next generation of converged communications, including telephone calls, broadband and Ethernet services delivered through an Internet-based platform.
The investment will end BT's dependence on telephony through on Ye Olde public switched telephone network (PSTN) and should – in theory – result in cheaper telephone bills for its customers.
What is this 21CN thing, do I hear you ask?
Here's how BT describe the technology:
"BT's 21st Century Network (21CN) is a global IP infrastructure, based upon multi-protocol label switching (MPLS), that carries voice, data and Internet services on a single network. The 21CN offers multiple services across a single network, rather than today's multitude of networks offering specific services."
"For BT, this will mean fewer network elements overall and require simpler network management. For BT's customers, the 21CN will deliver more choice, control and accessibility, as well as increased flexibility, reliability and security."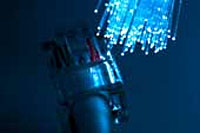 BT is expected to begin migrating around 350,000 customer lines in the area during the second half of 2006, with the 21CN programme requiring the replacement of equipment in more than 50 local exchanges along with the implementation of new IT systems to make the technology do its stuff.
Ask BT competitors what 21CN is and you'll get quite a different answer. Their view is that it is effectively the death of meaningful competition in the UK and that once BT has it in place there will be no incentive to try and unbundle exchanges.
Three cool-sounding "metro nodes" (super telephone exchanges) are to be developed in Cardiff, Swansea and Newport, with 10 new transmission sites also being developed across the region. These will be assessed for power supply, space and logistics planning before the 'on' switch is pressed.
First Minister Rhodri Morgan purred, "It's incredibly exciting for us that Wales has been selected to provide the test bed for BT's new 21st Century Network This investment by BT clearly signifies that Cardiff and central South Wales is one of Europe's most dynamic and progressive regions. The end result will transform our personal and business lives, and help attract high-tech industry and services to Wales."
Matt Bross, BT group's chief technology officer, said, "This roll-out will be the first time anywhere in the world that customers will have communications services provided over such a radical next generation network."
"The operational experience that we gain in Cardiff and the surrounding area will enable us to move full steam ahead and deliver 21CN to everyone in the UK – migrating a total of 30 million lines – in just four years."
"It's an enormous technical and operational challenge, but will enable customers to benefit from compelling new services."
How the installation and implementation of the service – and the customer feedback – works out will help BT finalise plans to roll out 21CN to customers across the UK by the end of the decade.