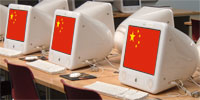 China has opened its first officially licensed clinic for Internet addiction as State media reports growing cases of obsessed Internet gamers whose addiction has caused them to quit school, commit suicide or even murder fellow gamers.
Dr. Tao Ran, the clinic's director reports that his patients suffer from a series of maladies including depression, nervousness, fear, panic, agitation and an unwillingness to interact with others (to be honest, that sounds like a lot of normal teenagers we know).
Their Internet addiction also manifests itself in sleep disorders, the shakes and numbness in their hands from a surfeit of fragging, clicking and scrolling.
The government-owned clinic opened for business in March this year, and is situated within the Beijing Military Region Central Hospital, with the patients – mainly aged between 14 to 24 – looked after by a team of a dozen nurses and 11 doctors.
Most report losing sleep, weight and friends after spending countless grimly hours glued to their PCs, with one 12-year-old reported to have spent four days in an Internet cafe, barely eating or sleeping.
The Web addicts claim that their online obsession helped them to escape everyday stress, with many older kids becoming fixated by online chats with the opposite sex.
Tao estimates that up to 2.5 million Chinese suffer from Internet addiction, although Kuang Wenbo, a professor of mass media at Beijing's Renmin University, thinks the problem is being overstated:
"As the number of the Netizens grows, the number of the addicted people will grow as well, but we should not worry about the issue too much. The young men at the age of growing up have their own problems. Even if there was no Internet they will get addicted to other things."
Patients diagnosed as Internet-addicted by Tao's diagnostic test are presented with a combination of therapy sessions, medication, acupuncture and sports exercise, with the courses lasting around 10 to 15 days.
Treatment is not cheap, with the daily US$48 (~£27 ~€40) charge working out at more than double the average city dweller's weekly income in China.
Some of Tao's treatment sounds a bit medieval with one session involving a machine that stimulates nerve impulses by delivering 30-volt charges to pressure points.
Another treatment is reported to involve a clear fluid delivered via an intravenous drip to "adjust the unbalanced status of brain secretions." Eek!
Although Tao claims that the long-term effects of treatment are generally successful, not all patients are available to resist the temptation to log on.