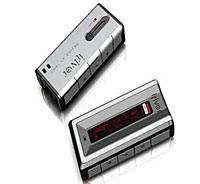 In a deluge of announcements, iRiver has paraded four new flash-memory based music players before the SEK exhibition in Seoul this week.
Most interesting is the U10, a strikingly designed multimedia player, operated through a 2.2in, QVGA (320 pixel by 240 pixel), landscape-oriented touch screen.
Looking like something that's escaped the set of 2001: A Space Odyssey, the curvy white player device packs in a ton of features, with MP3, WMA, ASF and Ogg music playback supplement by Mpeg4 video support (but no DivX). Apple's FairPlay protected AAC music files can't be played on iRiver devices.
Also lurking within its compact 69mm x 47mm x 16 mm form is a FM radio, a voice recorder and a photo viewer.
The U10 comes in 512MB and 1GB capacities and will be priced at $283 (~£155, ~€232) and $335 (~£275, ~€232) respectively in the US. No UK launch date or prices have been announced.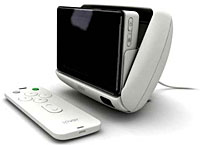 The second player is the H10 Junior, a flash-based Mini Me version of the popular H10 player, which some patronising marketing genius has declared as "One For The Ladies".
Served up in 512MB and 1GB capacities, the player complements iRiver's existing hard disk-based H10 range – currently available in 5GB, 6GB and 20GB capacities – and offers a FM tuner/recorder, voice recorder and line-in encoder.
The Junior offers a 1.2″ (260k) colour LCD panel on the top part of the fascia with and an up-down scroll bar beneath it.
Replacing a (comparatively speaking) chunky hard drive with flash memory means that the dimensions can be slimmed down to a teensy weensy 42mm x 72mm x 16mm, with the unit weighing a feather-threatening 50 grams.
Availability in South Korea is scheduled for late June, but we haven't heard a peep about pricing or international distribution.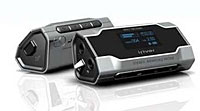 Wrapping up iRiver's latest product shifting marathon is the T20 and T30 flash music players.
Both the diminutive players can churn out MP3, WMA, ASF and Ogg Vorbis audio formats and come 256MB, 512MB and 1GB varieties. Battery life is quoted as up to 20 hrs, powered by a single AAA battery.
The T20 features a built in sliding USB plug that lets users hook it up directly to a computer's USB port, while the T30 sports a natty Toblerone-esque triangular styling.
Pricing and international launch details for the T20 and T30 were – you guessed – not announced either. They just want to tease us, I guess.
(Writer congratulates himself on writing an article on no less than four MP3 players and not mentioning the phrase "iPod Killer")…