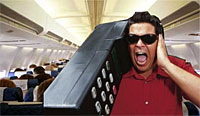 A survey by technology researchers IDC revealed that passengers aren't too keen on the prospect of spending long flights listening to fellow passengers bellowing into their mobile phones.
The comprehensive survey was set up in response to reports that the US Federal Communications Commission was considering lifting its in-flight cellphone ban.
IDC discovered that a mere 11 percent of its 50,000 survey respondents wanted the ban lifted, but a hefty 64 percent approved of the use of mobile phones for purposes besides voice calls.
"While the passage of this proposal appears to offer solutions to the wireless industry, it has spawned disapproval among some consumer groups as the potential for in-flight usage would create disturbances to passengers," IDC commented.

The growth of clever-clogs smartphones phones like the i-mate JAM and PalmOne Treo would allow connected passengers to check their email and surf the web during flights.
IDC's survey aimed to identify which wireless services were most appealing and, not surprisingly, of the eleven activities offered, text messaging was the most popular activity.
As you might imagine, the market would love to see the in-flight ban lifted as it would provide a party pack of opportunities for wireless carriers and airlines to brand and market mobile commerce, provide new channels to squeeze more cash out of consumers and send smart phone manufacturers into mobile heaven.
"Whether a mobile-device vendor is interested in the in-flight market or not, the key finding from this survey remains the same: By comprehending the needs and criteria specific to the user segment and location, mobility companies can enhance their products to better serve and target the desired customers and market segments," said Dana Thorat, IDA research manager/mobile users, in a suitably analytical manner.