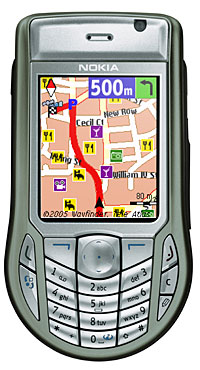 Nokia and Wayfinder Systems have proudly proclaimed the availability of the Nokia 6630 Navigation Pack, a compact smartphone-based navigation package for folks on the move.
The navigation package comes in three parts; the Nokia 6630 smartphone, a Nokia Wireless GPS Module and the Wayfinder Navigator application.
WayFinder isn't unique in offering this application to the Nokia 6630, with other available including NaviCore, launched in the UK a few weeks ago. Having Nokia put their name to the Wayfinder Navigator will provide a sense of authority that competing products will find it hard to compete with.
Getting a little carried away, the announcement insists that the Nokia Navigation Pack "puts the world into people's pockets".
Although the idea of people flapping around with planet-threatening trousers amuses, all the package actually does is let users connected to the Nokia Wireless GPS Module access position and route information on their Nokia 6630 smartphone screens.
It's a clever wee thing though, offering turn-by-turn voice instructions, searching for street addresses, restaurants and other points of interest with locations or points of interest shared by forwarding maps via MMS or email.
The Nokia 6630 Navigation Pack does not require fixed installations with the automatic settings configuration tool serving up maps from Wayfinder's extensive catalogue, currently covering Western Europe, the Czech Republic, Poland, Hungary, and Greece.
"Location based services are among the top consumer choices for new mobile applications," asserted the wonderfully named Kirsi Kokko, Director, Smartphone and Business Solutions, Multimedia, Nokia.
"With the Nokia 6630 Navigation Pack, we wanted to address this demand with a highly advanced, portable package combining the benefits of a smartphone and navigation. When not using navigation based services, people can enjoy the same device for productivity purposes, taking pictures or video, surfing the Internet or listening to music."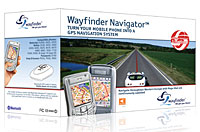 Never one to knowingly undersell his product, Jonas Sellergren, VP Product Management, Wayfinder Systems proclaimed "the Wayfinder Navigator application on the Nokia 6630 brings the ultimate navigation solution to the consumer."
"The Wayfinder Navigator(TM) in a Nokia smartphone delivers a complete navigation experience that previously has been found primarily built into cars. Wayfinder Navigator is the perfect travel companion, the ideal tool for people on the move," he continued, selling furiously.
The Wayfinder Navigator app comes on the Nokia 6630's Reduced Size MultiMediaCard (MMC) with a 6-month freebie period of navigation including automatic map updates. After that date, users will have to dip in their pockets to extend the service.
The navigation pack will also be available with the Nokia 6670 smartphone in some areas.