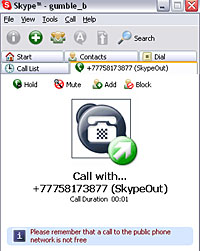 After several weeks in beta, Skype has officially launched the Skype Voicemail service, the company's second pre-paid premium offering.
The new Skype Voicemail service allows callers to leave unlimited voicemail messages for Skype users when they are unavailable or offline.
Unlike bog-standard voicemail systems, Skype Voicemail also lets users send pre-recorded voice messages to other Skype users – even if they're not a subscriber to the service.
The SkypeIn beta ran in eight countries, and testers in those countries can also receive Voicemail messages from ordinary fixed or mobile phones.
Users of the service can personalise their Skype Voicemail by setting their answer preferences, adding their own witty and kray-zee greeting and electing to receive messages up to 10 minutes long.
Skype Voicemail subscriptions are available for €5 (~US$7~£4.00~) for 3 months or €15 (~US$19~£11.00~) for one year. Orders may be pre-paid with a credit card or via PayPal or Moneybookers at the Skype Store.
Also rolling off the Skype production line is the latest Skype for Windows v1.3, incorporating several feature improvements, including enhancements for importing new contacts to contact lists and a more customisable user profile area.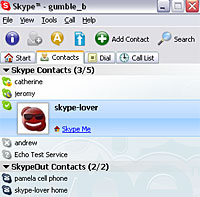 Skype v1.3 allows bolts on the ability to populate Skype contact lists from desktop applications including MSN, and auto-populate exact matches from Microsoft Outlook.
Skype for Windows also offers an "enhanced visual experience" (whatever that is) with streamlined user interfaces and improved upgrade and premium notices.
There are also some new animated emoticons which, apparently, give instant messages "more expression". Or maybe just irritate people more.
The company's first premium offering, SkypeOut, allowed Skype users pre-paid calling to traditional and mobile phone numbers for local rates, attracted more than 1.5 million paid users since its launch in July 2004.
All of the company's premium services – Skype Voicemail, SkypeOut, and the beta version of SkypeIn – are compatible with the latest versions of Skype for Linux, Mac OS X, Pocket PC and Windows platforms.
The company boasts more than 42 million registered users increasing by approximately 150,000 new users a day.
In the last few days, Internet rumours have been rife about Skype being the subject of a possible merger, commercial partnership or buy-out by Yahoo. Nothing's been confirmed – or denied – yet, but we'll keep you posted!