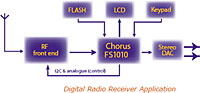 Frontier Silicon have announced the "world's first multi-standard, multi-band mobile digital TV chip set".
The new device, called Kino 3, is a new multi-standard and multi-band MDTV chip set which supports both the Korean and European digital multimedia broadcast (DMB) as well as the DVB-H standard for mobile TV reception.
Kino3 will be world's first thingamabob to combine a silicon tuner with broad tuning range and a baseband processor utilising software defined radio techniques to address multiple MDTV reception standards.
Frontier claims that the Kino 3 will be able to compete in terms of cost, size and power consumption with devices that just support a single standard.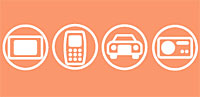 In a fug of industry-speak, Anthony Sethill, CEO of Frontier Silicon, told the Broadcast Asia Conference in Singapore, "We strongly believe that regulatory, spectrum allocation and installed infrastructure issues could considerably slow down the deployment of MDTV worldwide. With our experience in developing pioneering semiconductor solutions for digital broadcasting, we recognised this as a company early on and deployed resources to develop multi-standard ICs. Our aim is therefore to remove this barrier by quickly introducing a solution, and we are on course to introduce our Kino 3 solution in 2006".
And here – as they say on shampoo adverts – is the science bit:
DMB is an extension of the Eureka 147 specification commonly referred to as DAB and used for digital radio broadcasts in much of Europe. DVB-H has been developed as an extension to the existing DVB-T standard which is widely used across Europe for digital TV broadcasts. Both DMB and DVB-H have been developed to provide the robust and high bandwidth data channels required to enable the reliable reception of digital video on handheld devices.

Korea is expected to see commercial MDTV services based on DMB rolling out during 2005, with the UK and Germany following in 2006.
Commercial services based on DVB-H will begin broadcasting in America during 2006 with parts of Europe adopting this standard during 2006 and 2007.
Fans of obscure spec sheets will have to wait until 2006 to discover the thrilling details of Frontier Silicon's Kino 3 chip set, but we can inform you that it comprises of a state-of-the-art multi-standard baseband demodulator/decoder and multi-band (Band II, III, IV, V and L-band) RF tuner IC, and incorporates integrated microcontroller and memory. And possibly an onboard rear view dipstick.