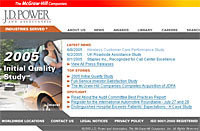 It's hardly revelatory stuff, but a study by J.D. Power and Associates has revealed that customer service issues dealt with by living, breathing human beings create significantly higher customer care ratings than those with computer-generated interaction.
The 2005 Wireless Customer Care Performance Study, now in its third year, examines customer experiences in three point-of-contact methods: on the blower with a service representative and/or automated response system (ARS); walk-in at a retail store; and online Internet connection.
The men in the white lab coats examined processing issues such as problem resolution efficiency and the time customers were left listening to cheesy on-hold music and drew up a customer satisfaction index.
Customers dealing with service representatives over the phone registered an average index score of 109, well above the industry average score of 100.
At the retail store, things weren't quite so positive, but still returned an above-average score of 102.
However, when it came to customers contacting their carrier with a problem and being left to deal with a gibbering box of wires in an ARS system, the index score plummeted down to 85.
Trying to get an answer online proved to be even more frustrating, with the index score plunging down to just 75.
The study reveals that customers didn't like the inflexibility of automated systems, noting that a service representative-either over the phone or in person-can answer customer questions and clarify answers given.
Not surprisingly, this compares favourably to spending an eternity on the phone being told to endlessly bash different numbers on a keypad.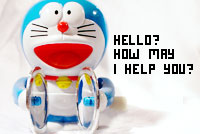 "As more companies encourage customers to contact Internet and computer-based customer service programs to save operating costs, they run the risk of increasing churn [techie word for a customer switching carriers] as the number of contacts needed to resolve a customer complaint or issue rises," said Kirk Parsons, senior director of wireless services at J.D. Power and Associates.
"Since future churn levels are four times as high among those who rate their wireless carrier below average in customer care, the challenge for wireless providers is to offer an easy and efficient customer care transaction experience."
Contrary to my personal experience, T-Mobile US ranked highest among the six big-boy wireless service providers in "creating a positive experience among customers who contact their providers for service or assistance."
Victorious for the second consecutive year, T-Mobile notched up an index score of 108, and was seen as performing particularly well across all factors, especially hold-time duration and problem resolution efficiency.
Additionally, T-Mobile customers' average hold times before waiting to speak with a service representative were an impressive 34 percent less than the industry average (2.27 minutes versus 3.44 minutes).
Verizon Wireless, Nextel and ALLTEL were also noted as performing at or above the industry average.
The study also found that more 54% of wireless users have contacted the customer service department for assistance within the past year – up slightly from last year's 52%.
Most customers prefer to contact their carriers via the telephone (71%), with 26% using email and only 3% using e-mail/Internet contacts.
The 2005 Wireless Customer Care Performance Study was based on responses from more than 8,600 wireless users who had contacted customer care over the past year.