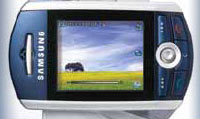 Scheduled for release at the beginning of July is Samsung's "Web friendly" SGH-Z130 3G handset.
The all-swivelling beastie features a rotating, high-resolution LCD screen (176×220 pixels), with full Web browsing support offered by the well regarded NetFront Browser by Access (as previously seen on Sony Clie PDAs).
As is the norm these days, a 1.3-Megapixel (1152 x 864 pixels) digital camera has been poured inside the SGH-Z130's slim-ish dimensions (112x46x20mm, 120g), with all the multimedia tick boxes neatly crossed off:
Video recorder? Oh yes!
Music player with MP3/AAC/AAC+ support? Of course!
All jingling, jangling and beeping 64 polyphonic & MP3 ring tones installed? Absolutely!
Embedded wallpapers and Macromedia Flash? C'est naturellement!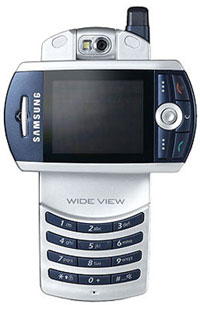 There's a fair bit of memory on board to handle all the multimedia fluff, with a total of 88.5 MB storage offering 80 MB for Image/Sound/Video, 4 MB for Java, 3 MB for Email and 1.5 MB for MMS with just enough room left over for 200 SMS messages.
The handset comes with built-in Bluetooth support (v1.1) and works with 2100MHz UMTS 3G as well as the 900/1800MHz GSM bands.
Sadly, despite the phone's strong Web-focus, there's no Wi-Fi on board and USB connectivity is stuck at Ye Olde v1.0.
The built in NetFront browser supports OMA Browsing 2.2, WML, HTML 4.01 and cHTML, and its "Rapid-Render" incremental rendering technology is claimed to accelerate the presentation of Web pages.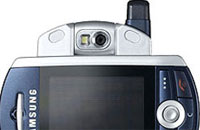 As with earlier versions of Netfront, there is a handy option to render Web pages to fit smaller screen widths, saving a ton of pesky horizontal scrolling.
NetFront is being touted as the only mobile browser to provide integrated support for Adobe Reader LE and the popular portable document format, PDF.
'The SGH-Z130 is one of the most innovative 3G handsets on the market today, and ACCESS' advanced NetFront browser technology extends this innovation by providing a comprehensive mobile Internet browsing experience,' insisted Chulhwan Lee, of Samsung. 'ACCESS and Samsung will continue to collaborate to bring advanced mobile Internet browsing solutions to mobile end-users throughout the world.'