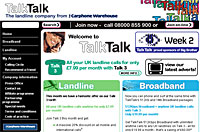 There's a big battle going on for your landline, with the Carphone Warehouse limbering up to get in some telling punches into BT's sector dominance.
TalkTalk UK – Carphone's fixed line subsidiary – is looking to snaffle ten per cent of the UK's fixed line market within the next three years, after recording what they describe as an "outstanding year".
The company has soared into profit in only its second year of operation, despite hefty investment and marketing costs, with more than 920,000 fixed line users generating revenues of £123.6m (~US$225m~€183m).
Heady on success, sharp suited TalkTalk execs have sent the flipcharts flapping and come up with an ambitious target of signing up two million residential consumers by March 2008 – that's one in ten of the UK's fixed line market.
TalkTalk also plans to simplify the process for customers paying their call charges and line rental on a single bill – or "terminating the billing relationship with BT" as they like to call it.

Chief exec Charles Dunstone was ready with a quote: "We are now well on the way to developing a broad-based telecoms group, providing mobile and fixed line services to individuals and businesses across ten countries."
"We have now proved that TalkTalk has all the ingredients to become the major alternative force in UK residential communications, and further regulatory change over the next year should allow us to move to the next level in both scale and range of service."
The parent company, Carphone Warehouse, have also released bumper figures, reporting a 33.8% rise in pre-tax profits to £102.1 million (~US$185m ~€151m) in the 12 months to the end of March, against £76.3 million (~US$138m ~€113m) for the same period a year ago.
Turnover hopped, skipped and jumped up 27% per cent to £2.35 billion, operating profit soared up 45% to £107 million (~US$195m ~€158m), with Carphone Warehouse signing up 6.5 million new customers to mobile and fixed-line telephone services during the period (21.6 per cent higher than new connections for the previous year).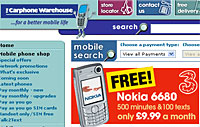 Crucially, revenues from telecoms services were up 45% to £804 million (~US$1,462m ~€1,190m), with operating profit flying up 50% to £22.5 million (~US$41m ~€33m).
"Our year-to-date connections growth of 20 per cent is particularly encouraging, especially in the context of a weaker consumer environment in the UK," purred Charles Dunstone. "We remain confident of the outlook," he added, before announcing that he was selling his first tranche of 6 million shares, or 2 percent, in the company.