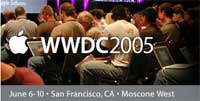 The rumours have been floating around the Internet for weeks, but it now seems certain that Apple will announce later today that it will be switching its computers to Intel's.
The move, certain to get some Mac diehards crying into their single button mouses, means the end of Apple's partnership with IBM, whose PowerPC processors have powered Macs since 1994.
Insiders report that there will be a phased transition to Intel's chips, with Apple planning to move lower-end computers like the Mac Mini to Intel chips in mid-2006 with beefier models like the Power Mac moving over in mid-2007.
The story first surfaced last month in the Wall Street Journal, but many analysts laughed it off saying that the move would be both difficult and risky.
But the rumours persisted, fuelled by comments by Anand Chandrasekher, VP and GM of Intel's Mobile Platforms Group at the Computex trade show in Taipei last week.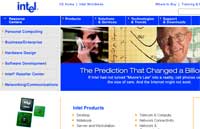 When asked about the deal he said that the company has long pursued a deal with Apple, adding, "We always talk to Apple. Apple is a design win that we've coveted for 20 years and we continue to covet them as a design win. We will never give up on Apple."
This isn't the first time that Apple have shifted processors, with the company successfully changing over from Motorola's 680×0 line of processors to the Power line (jointly made by IBM and Motorola) in the 1990s.
The switch seems to be have been prompted by several factors. IBM had previously been publicly slapped down by Apple for their chip delivery problems, and Apple's plans for a wide variety of PowerPC processors wasn't going down well with the Big Blue, who harboured doubts about the profitability of a low-volume business.
Although the loss of the Mac businesses is something of a slap in the face with a wet fish to IBM, shareholders can be consoled by the fact that the Power family processors will be used in future gaming consoles from Microsoft, Sony and Nintendo.
Intel remains the Big Cheese of the PC processor business, hogging an 81.7 percent market share in the first quarter of 2005, compared with 16.9 percent for Advanced Micro Devices, according to recent research.
PowerPC processors aren't included in these numbers, but Apple only have around 1.8 percent of the worldwide PC market.
Steve Jobs will be making his announcement at Apple's Worldwide Developer Conference later today.