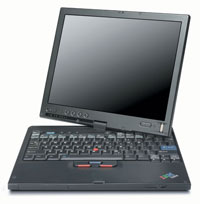 The Lenovo Group has officially announced the first ever ThinkPad tablet, the ThinkPad X41.
The laptop offers a swiveling, writable slate and a full-size keyboard in a slimline (1.14 inches thick) package weighing an easily-luggable 3.5 pounds.
Lenovo claim that the X41 is nearly 20% lighter than other competitors and delivers longer battery life. When in tablet mode, the X41's 12.1-inch screen swivels to cover the keyboard – a design that has proved more popular than the slate Tablet PC design, which has no built-in keyboard.
Chinese powerhouse Lenovo bought IBM's PC business in a deal that surprised some. This makes it pretty interesting to see that they are stepping up their game so strongly.
Although the format has had a few false starts in the past, Rob Herman, program director for Thinkpad marketing, says that their Tablet PC is in response to increasing demand from Thinkpad customers in markets such as health care workers.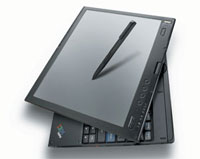 The growth of Tablet PCs – once described as the future of mobile computing by Microsoft – has so far been slow, with total sales only representing a tiny fraction of the PC market.
Although users seem to like the ability to enter information using a digital pen, the wallet-lightening price has put many off, so it'll be interesting to see how the X41 fares.
Although its $1899 (~£1,040, ~€1,550) price tag isn't exactly bargain basement stuff, the price is similar to what other vendors charge for ultra portable notebooks.
The X41 is reasonably specified, although there's nothing here to get the heart racing, with an Intel Centrino chip running a low-voltage Pentium M processor and wireless chip.
The basic configuration offers an Ultra Low Voltage Pentium M 758 processor, a fairly stingy 256MB of DDR2 RAM, a 20GB hard drive, with an optional docking station required for reading and writing CDs or DVDs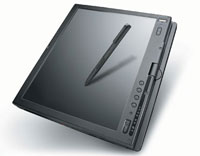 The anti-reflective and anti-glare screen claims to provide 170-degree viewing, and an optional integrated fingerprint reader offers extra security for the terminally paranoid and distrustful.
Battery life is claimed at 2.6 hrs (4-cell) up to 6.3 hrs (8-cell) – up to 8.5 hrs with an optional bolt on extended battery.
The ThinkPad X41 Tablet will be available from 14 June onwards.