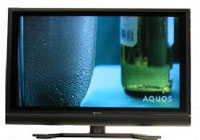 First shown off at the CEATEC show in Japan last year, Sharp has announced that it will be launching its gargantuan 65inch LCD set in August this year – the biggest in the world.
The digital leviathan, snappily named the LC-65GE1 AQUOS, features a full-spec high-definition LCD panel with a room filling 1,920 H x 1,080 V pixel resolution capable of displaying digital content in Hi-Vision, the Japanese 1080i HDTV format.
The house-challenging Sharp TV features a 4 wave length back light to improve on the colour display quality with the built-in speakers powered by a 1-bit digital amplifier.
Coming in two tasteful finishes – Titanium and Piano Black – the wall-mountable leviathan serves up a feast of connectivity options, including HDMI, DVI, FireWire (IEEE-1394) and a CableCard slot.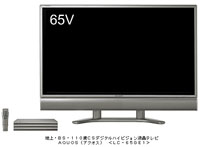 Monster LCD screens are prone to suffer from 'smearing', which results in onscreen artifacts being displayed by fast moving objects, but Sharp claims that its QS (Quick Shoot) Technology improves moving video responsiveness, making it perfect for watching high-speed full-motion video and fast moving footage (like a Cardiff City strike. Sort of).
The company are big on waving their green credentials around with gusto, and were quick to point out that the LC-65GE1 has a power consumption of 'only' 619 W.
This is less than PDP televisions of the same 65V-inch class, but it's hardly likely to impress Greenpeace activists.
The monitor also uses materials which can apparently be recycled, although we're not sure what you could make out of them.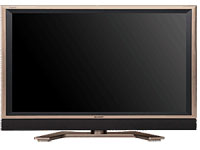 As is often the case lust-spawning objects, there's a double whammy of a sting for anyone fancying installing one of these monolithic beasts in their Hackney bedsit.
The first killer blow is the price: a thumping great 1,680,000 Yen (~£8,565 ~US$15,570), with the knock out punch being price and availability: the company is only manufacturing 300 units a month and you'll only be able to buy it in Japan.
The Sharp Aquos LC-65GE1 goes on sale in Japan on 1st August.