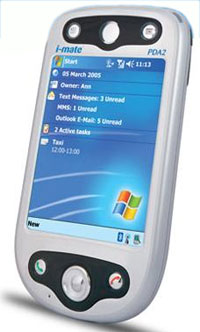 Dubai-based Microsoft Windows mobile specialists i-mate have added the HTC-manufactured i-mate PDA2 to their popular range of Pocket PC phones.
Sporting a nippy Intel processor running at 520 MHz – the fastest available for Pocket PC phones – the tri-band GSM/GPRS handset has been designed for "heavy data processing" and comes with 128 MB RAM and 64MB ROM.
This phone is already available in the UK by O2 operator as the O2 Xda IIi, but is only now being offered by i-mate – the biggest distributor of HTC-made phones.
The unit comes positively festooned with connectivity options, offering GSM/GPRS (900/1800/1900Mhz, Class B, 10 slots), Bluetooth and Wireless LAN (Wi-Fi).
Memory can be expanded through a SD/MMC slot, which is compatible with SDIO peripherals.
The handset features a 3.5″ QVGA transflective (TFT) touch screen with both landscape and portrait modes, plus a 1.3 mega-pixel digital still and video camera.
The man-sized Pocket PC phone comes preloaded with Skype for cheap VoIP (Voice Over IP) calls, as well as standard Pocket versions of Word, Excel and Outlook Inbox and Windows Media Player 10, providing better integration with Windows Media Player on desktop or laptop PCs.
The i-mate is powered by a 1300mAH battery with a slot provided in the cradle for charging a spare battery.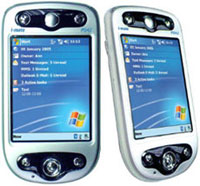 Memory can be expanded through a SD/MMC slot, also compatible with SDIO peripherals.
Conveniently, all the accessories available for its predecessor, the i-mate Pocket PC, are compatible with this new model, although upgraders should be disappointed to learn that the device runs Microsoft Windows Mobile 2003 Second Edition and not the recently-announced Windows Mobile 5.0 OS.
With the release of Windows Mobile 5.0 OS set for Autumn this year, we'd advise potential purchasers to think twice before shelling out for this unit as it appears that there will be no OS upgrade available.
"The i-mate PDA2 is one of the most powerful and expandable mobile devices on the market. The efficiency gains to be had could mean the device pays for itself in no time" insisted Jim Morrison, Founder and Chief Executive of imate
"An outstanding feature of the i-mate PDA2 is its ability to be customized with innovative business applications to deliver remote access to a company's core systems in real-time," continued Morrison in full sales flow, "Our devices are highly scalable and can be configured to match the needs of a wide variety of industry applications like field and sales force automation, and asset management."
The company is hoping that the PDA2's companion Website, which offers 24/7 technical advice, support and value added services such as free hosted Microsoft Exchange e-mail, games and patches, will tempt users to fork out for what has to be seen as something of an understated upgrade.
Morrison clearly thinks it's a deal maker,"Over and above the advanced features of the device itself, the real difference is in the i-mate value added services we offer and global warranty play a key role in i-mates strategy to deliver the ultimate mobile experience."
The i-matePDA2 will be available online and in stores from the beginning of June 2005.