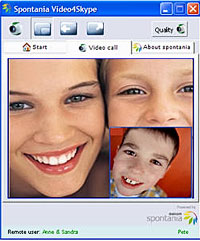 Skype users can now gaze at each other's ugly mugs (and other body parts) while they waffle online, thanks to a new free plug in from Dialcom.
The Spontania Video4skype plug-in uses the Skype P2P engine and allows Skype account holders with broadband access to plug in their webcam and start making free video-calls through Skype.
The plug-in offers a full screen mode, end-to-end encryption and is billed as being "firewall, NAT and proxy friendly", so there should be no need to start rummaging around in your network configuration settings.
Dialcom's Sponania video plug-in hasn't been specifically written for Skype – it's designed to be integrated with any third party VoIP system – but Skype has benefited from being the first to use it.
There doesn't seem to be any obvious business model for Dialcom yet, but we suspect that they may introduce paid versions with extra features and add-on sales at a later date.
Skype's VoIP system has now scooped up nearly 40 million registered users, with take-up rolling along at a healthy 150,000 new users per day.
Skype's recent affiliate program trials have proved something of a success, signing up more than 1,800 affiliate Websites to share Web traffic with Skype during the test period.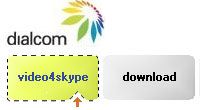 The deal for Webmasters is that Skype will dish out commissions of up to 10 per cent of its own store purchase revenues when a buyer is referred from their site.
The 30-day referral period starts after the first click, and credits site owners for all purchases made from return visits to the Skype Store.
"We look forward to rewarding our most ardent online evangelisers by creating an avenue to increase profits from their websites," buzzworded Skype CEO and co-founder Niklas Zennström last week. "A strong affiliate program not only opens up a revenue stream for Skype devotees, but also provides an interactive communications tool for Website publishers to engage in dialogue with their audiences."
There's also a back-scratching reverse synergy deal (I've wanted to say that for years) with Skype able to direct its zillions of users to other sites through advertising links.
Skype's 'super affiliate' partnerships include 192.com, Firstream, LunarStorm Sweden, LunarStorm United Kingdom, and MyFamily.com.
Skype recently released the latest beta of Skype 1.3 for Windows, but with their 'known issues' list stretching to fourteen items, many are advising holding back for a while before installing.