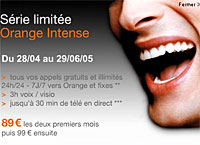 Coming hot on the heels of their 3G Mobile TV launch, Orange France has announced that their high-speed EDGE mobile service for consumers will go live next week.
Although EDGE technology is slower than 3G services it has the distinctive advantage of being cheaper and – unlike the "walled garden" approach of 3G – the technology gives customers direct access to email, the Internet and television.
Orange, the mobile phone arm of France Telecom, has shuffled its expectations of EDGE take-up in a downward direction from its initial forecast of 500,000 subscribers by the end of December.
"We expect to have more than a million high-speed clients (EDGE and 3G) by the end of May 2006," Orange Chief Executive Didier Quillot told a news conference.
Quillot added that he expected the total to stand at between 500,000 and 1 million by Christmas 2006, with the number of EDGE subscribers reaching 2 million by the end of 2006.
Monsieur Quillot revealed that Orange had 110,000 3G subscribers by the end of May – nudging higher than their rivals, SFR, with 100,000 subscribers.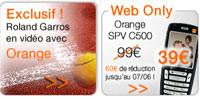 SFR expects to have scooped up around 500,000 3G subscribers by the end of the year.
Currently, Orange's EDGE service offer coverage of some 85 percent of France's population, against the 45 percent coverage offered by its 3G network.
3G coverage is expected to rise to over 50 percent by the end of 2005 and continues upward to around 60 percent by end of 2006.
Orange has stated that it will invest over 200 million euros in 2005 and 2006 to make its network compatible with EDGE.
EDGE stands for Enhanced Data rates for Global Evolution and is a radio based high-speed mobile data standard, which enables television, video and music to be received on an Orange Intense mobile phone at any time.