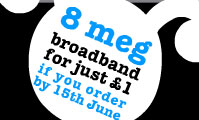 Bulldog Communications, the Internet and telecom group owned by Cable & Wireless, is rolling up its sleeves and shouting "Oy! Let's be 'aving you!" at its rivals as it doubles the speed of its broadband offering to a super-swifty 8 megabits-per-second from 4 megabits, and spread it across the UK.
With its local loop unbundling (LLU) cutting BT out of the loop, Bulldog can offer highly competitive prices, letting subscribers get broadband at speeds of up to 8 meg.
Prices start at £15.50 (~US$28 ~€22) for eight hours online a month with their 'Start@ctive' package.
The unlimited 'Inter@ctive' 8 meg product costs £29.50 (~US$53 ~€42) a month, with the 'Super@ctive' package bundling in free unlimited local and national calls for £41.50/month (~US$75 ~€60).
It should be noted, however, that punters have to install Bulldog's telephone service to enjoy the @ctive prices.
Like a crack dealer giving out free samples, Bulldog is offering the first month's broadband service for just one pound in the hope that customers will get addicted to their high speed service.
A bullish Bulldog CEO Emanuele Angelidis insisted that the launch of the 8 meg service showed how the LLU operator was "redefining the boundaries of the broadband market".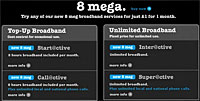 "Eight meg from Bulldog, with no download caps, gives customers the freedom to use the Internet as they wish," he growled before retiring to his executive kennel.
Elsewhere, a spokesman for BT could be heard conceding that Bulldog's pricing was "an interesting proposition … and a sign of a very healthy broadband market".
Although competition in this sector is white hot, BT remains the King Dong of the UK telecoms market, although it is yet to announce anything as fast as an 8 megabit broadband service.
Currently, entry level broadband products tend to offer miserly speeds of around 256Kbps, although pricing pressure has seen major players such as BT, Tiscali, AOL and Wanadoo offering 1Mbps or 2Mbps broadband deals for around £14.99 (~US$27, ~€22) to £29.99 (~US$54, ~€44) per month.
C&W have been embarking on a broadband spending spree recently, announcing last week that it was doubling its investment in LLU to provide broadband coverage to 800 telephone exchanges – adding up to around 30 percent of homes and businesses across the UK.