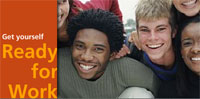 The Training Foundation has launched its Ready for Work online training programme, an employment-awareness course free to all young people in (or recently in) full-time education and those in modern apprenticeships.
Warmly welcomed by leading education and industy-based bodies such as HTI, Confederation of British Industry and the British Chambers of Commerce, the scheme is aimed at ensuring that fresh-faced young 'uns arriving at the workplace know how to become responsible employees.
The Ready for Work program will give young workers an idea of what employers might expect of them as they start out on their working lives and, is it hoped, make the transition to employment a more pleasurable experience (I'm still waiting for that bit to happen).
The training programme consists of 12 online courses designed to raise awareness on employment issues of major concern to today's employers.
The "interactive and engaging" programme covers subjects such as "showing respect at work, embracing diversity, being enterprising, managing workplace stress, health & safety, following drugs & alcohol policies, sensible email and Internet use, data protection and being a responsible employee."

Each self study course ends with a short test to check the learner's understanding, with an 80% or better grade qualifying the student for an optional Ready for Work Certificate and Ready for Work Handbook.
Certificates are awarded by ABC (Awarding Body Consortium), a leading UK awarding body with full Qualifications Curriculum Authority (QCA) recognition.
In April 2005, The Training Foundation became the first ever training organisation to be awarded the Queen's Award for Enterprise – Innovation, and its new scheme has had industry bigwogs falling over themselves to lavish praise on the initiative.
Sir Richard Branson was first in the queue; "We need our young people, on which the Country's future prosperity depends, to be equipped with an appreciation of business, so that they can set out with a spirit of enterprise. I welcome the Ready for Work programme. Co-operation between employers and educators on initiatives like this can do nothing but good."
Sir Digby Jones, Director General of the CBI wanted to hug the Ready for Work program and take it home: "We need more employable young people understanding the world of work, trained in the most relevant areas and able to add value to their employer. The Ready for Work programme will help to bridge this gap."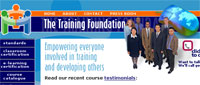 David Frost, Director General of the British Chambers of Commerce roared his approval: "We need initiatives such as Ready for Work, which can help to ensure that young people leaving full-time education and training are equipped with skills that are both relevant for the workplace and will help advance their careers."
Roger Opie, HTI Trust Director, also sprinkled the scheme with love: "The partnership between business and education is critical in raising the employability stakes for young people. An understanding of the skills and behaviours required in the workplace is a shared responsibility. This free programme provides both the content and motivation to complement existing initiatives."
The course is accessible over the Internet at The Training Foundation's online learning portal www.readyforwork.org.