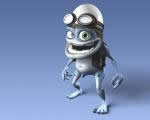 It's OK to say you don't understand the ringtones business.
I know there are people who initially claim they do, but not one of the many people that I've spoken to about the ringtones business can explain its workings to me. I'm not talking about how the downloads work, but why it's so big.
Anyone in the UK will be able to tell you at some length about the Crazy Frog ringtone – it's been a cultural phenomenon.
When they make I Love May 2005 (inevitable), some sardonic fellow (they normally are fellow, those sardonic ones) will make a witticism about it, that's just long enough to fit perfectly into the edit between the clips. Then those watching will be able to delight in hearing the hallowed tones again.
Reasons for this started with an incessant TV advertising[*1] campaign.
This lead to three possible reactions – the haters, the lovers and the not-bovered.
I'd imagine that lots of the UK viewing public hate it to the point of distraction, despising the 'music' and being irritated at their generally bafflement at ringtones. In fact 60 people chose to voice their disapproval to the UK's Advertising Standards Authority (ASA), other chose to complain about other parts of the frog, which quite honestly I can't say I've been looking for. As quoted from the ASA Website.
"It wasn't long before complaints were flooding into the Advertising Standards Authority (ASA). Some viewers complained that the commercial was annoying and broadcast far too frequently. However, the main crux of the complaints related to a far more unusual and surprising subject matter. Frog genitalia.

Viewers had noticed that Crazy Frog was very definitely male due to a protrusion that stuck out from his cartoon body. The complainants found this inappropriate. Some were worried about children seeing this kind of advertising material whilst a few parents had felt embarrassed by some of the questions their children had asked them."
The Crazy Frog was investigated and exonerated on all counts.
As to the regularity of the adverts, they said
"Lastly, though the ASA accepted that advertisements which are broadcast frequently can rankle with some viewers, it didn't uphold the complaints, as it's the advertiser and broadcaster who decide how often they show a commercial."
So the ASA say it's OK for them to continue spreading their joy among the nation – even if they don't want it.
This has started a revolt from other advertisers who don't want to be on the same slot as the Crazy Frog. On some channels this has lead to many Jamster ads[*2] being shown in the same break. In fact, this afternoon on E4, nearly all adverts were Jamster's.
In the process of this it has become the first ringtone to reach number one in the charts since downloads have become included.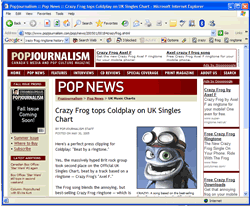 Popjournalism tells us
"Representatives from the UK Singles Chart said the novelty track sold 150,000 copies and was at one point outselling Coldplay's new single "Speed of Sound" on a four-to-one basis."
This stuff has been on the news and news quizzes. We're told it's sold over 11 million copies throughout Europe for goodness sake.
Ironically its popularity is the tragedy of its success.
How often do people who have chosen that as a ringtone incorrectly reach for their phone, when its played in a TV ad; on the news; a chart show on the radio; or as someone else's ringtone? Conversely, how many have missed calls because when their phone was ringing, when they assumed it was from another source.
Its popularity defeats its main purpose – you can fail to be alerted when someone is try to contact you.
This comes to the core of my misunderstanding of ringtones.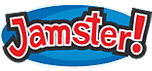 The draw of ringtones is to individualise the phone handset. But with ringtones, there is no scarcity of supply. Everyone can have one, if they pay for it.
If a ringtone becomes well known enough, like Crazy Frog, the purchaser ends up paying for the privilege of advertising their product for them.
I can foresee the next wave of ringtone distribution will be quite different – generating the same kind of revenues (remember, 11m ringtones at £3) without the huge amount they're spending on TV adverts.
I would mobilize their most powerful sales force – the ringtone user. By enabling each of the ringtone enthusiasts to act as sales people, they let them sell tunes directly to their friends, with a percentage of the sale to them for their trouble.
Unfortunately instant gratification for the keen purchaser is not currently possible due to the inadequacies of phone DRM, so direct transfer of music peer-to-peer is not allowed, due to the "fear of piracy", or not trusting your customer as it's otherwise known.
Perhaps a SMS/WAP passed token would work …
As to how do you judge what's going to be a massive smash – I really have no idea
[*1 A sweet spot has been created. The downward pressure on the cost of advertising on the UK's terrestrial channels, has crossed the rise in income generated by the ringtone business. This sweet spot, unfortuntley, creates very frequent TV adverts for ringtones.]
[*2 Jamster sell the Crazy Frog ringtone, other ringtones, wallpapers, etc]
An extensive history of the Crazy Frog birth is available from bloggerheads.