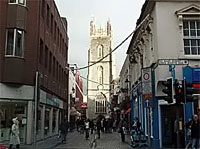 Cardiff vicar Reverend Kimber is hoping that by introducing wireless broadband access from the pews of his city centre church, more people will be encouraged to join his flock at St John's Church.
The decision was made after the tech-savvy Reverend discovered that the thick walls of the 1473 church blocked his own wireless signal as he used his laptop to write sermons and create orders of service.
The Welsh capital is awash with Wi-Fi after a joint project between Cardiff council and BT Openzone resulted in more than 100 wireless broadband points being created around Cardiff city centre and parts of Cardiff Bay.
With the streets full of wired Welsh business folks looking for a fix, Kimber realised that they might appreciate a quieter place to do business.
"The church is a sanctuary for everyone, including business people with laptops and mobiles who may want to find a quiet area without lots of noise and loud music to sit in peace and do some work or just send an e-mail," Kimber told the BBC.
The laptop-toting vicar added, "I couldn't do my job without one and it has made me more aware of other people's needs."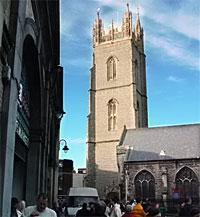 After Kimber approached BT, the company agreed to fill in the gap in Cardiff's wireless broadband network and fitted the church with its own Openzone node, providing access to surfers sitting in the corner of the north aisle at St John's.
Hopeful to convert Skype surfers into Bible-troublers, the Rev Kimber said: "This church has a strong commitment to be open for people in the city, and of course, if this will encourage more new people into the church, the project will have been a success.
Fearful of mass sessions of multiplayer shoot-em-ups and virtual battles breaking out in the aisles, Kimber added, "All we ask is that they respect the church environment and do not to use loud mobile ring tones or play music on their computers, especially when a service is in progress."
It wouldn't be the first time the church has seen battle – the original medieval church was severely damaged during the revolt of Owain Glyndwr in the early 15th century.
According to Ann Beynon, BT's director Wales, when it comes to wireless connectivity, Cardiff is now one of the most connected in the UK.