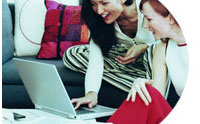 Research from BT shows that the number of users connecting to the Internet via broadband has overtaken dial-up subscriptions for the first time, with 7.4 million broadband customers (including cable) now online.
The figures, released by the BT Group, reveal that it has taken just over three years for broadband connections to overtake dial-up, with millions bidding farewell to "KKKKK-ER-ZRRRR-WEEIR!" modem dial up sounds for the silent, swift appeal of always-on broadband.
The speed of uptake has been accelerated by the intense competition from a host of high-speed Internet service providers, all offering customer-tempting speedier connections and services at ever-falling prices.
Initially, broadband availability was geographically limited, but according to Ben Verwaayen, the chief executive of BT, connections are now available to 99.6 per cent of the UK population, "equivalent to the proportion with running water."
Businesses have been quick to take advantage of broadband's ability to handle significantly more data than dial-up, with always-on connectivity delivering commercial advantages in the global markets.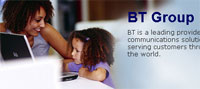 High speed connections are also good news to those selling goods and services online, with an explosive growth in the consumer market for buying media online, such as films, music and television.
Mr Verwaayen said: "I know people's memories are short but I don't think that anybody three years ago had even the faintest hope this would happen. I remember when I came into BT [April 2002] it was not in anyone's imagination."
Cash is still rolling into broadband investment, with Cable & Wireless announcing last week that it would be shelling out another £70m (~US$127m ~€m)to expand its Bulldog broadband brand.
Bulldog is currently handling 14,000 customer orders a month after launching last year at a cost of £41m (~US$74m, ~€103m).
BT remains the Big Cheese of the broadband world in the UK, boasting 1.7 million broadband subscribers of its own, with its network supplying a further 3.7 million broadband connections for other Internet service providers.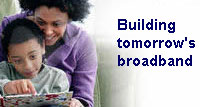 Two million cable customers now enjoy broadband connectivity through NTL and Telewest.
Mr Verwaayen wrapped things up: "We have to take the internet out of the domain of the geek and into the normal world. That's the journey we are on. After that you can increase the multiplier effect of broadband in the economy. "It's great to have overtaken dial-up, that's another step, but it's still in its early days."