A survey by Cingular Wireless has revealed that men spend more time yakking on mobiles than women.
For the fifth year on the trot, the annual survey has men coming out on top of the blabber's league, with the fellas talking 35 percent more on their wireless phones than women – more than double the 16 percent lead men held in 2004.
"The results are undisputable, and after five consecutive years, men are definitely the top wireless talkers," said Jennifer Bowcock, Director of Consumer Media Relations, Cingular Wireless.
It may seem at odds with the experience of some blokes, but the survey concluded that men communicate, grunt, leer, mumble or beerily chortle down their phones for an average of 571 minutes a month, compared to an average of 424 wireless minutes a month for women.
Traditionally, the home phone has been the favoured instrument of choice for women keen to sit down with a cup of tea and hog the phone forever, and this is reflected by the study which shows that women natter for 491 minutes each month against the 321 minutes per month for men.
The gap is narrowing though, down from 62 percent in 2004 to 53 percent in 2005.
Even when it comes to the traditional male domain of gadget owning, women still lead the way, with 25 percent of women owning a camera-capable cell phone in 2005, against only 21 percent of men.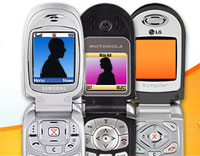 Women aren't afraid to get snapping either, with 60 percent using their camera feature frequently or occasionally against 40 percent of men using it as often.
The survey also discovered that men and women use wireless phones for different purposes, with 82 percent of the lay-dees using their phones to talk to family and friends, while only 62 percent of blokes use their phones for that purpose.
However, figures revealed that men spend twice as much time using their cell phones for business than women.
The survey concluded that convenience still remains the numero uno reason for both sexes using their mobile phones, with 62 percent indicating they primarily use their wireless phones for convenience purposes. Safety comes in second at 19 percent.