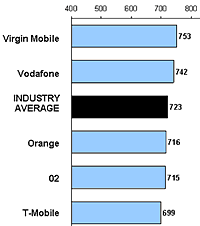 Orange has triumphed in a study rating customer satisfaction among mobile phone contract providers, with Virgin Mobile coming in top in the pre-pay sector, according to the 2005 UK Mobile Telephone Customer Satisfaction Study, run by J.D. Power and Associates.
Orange romped home with an overall index satisfaction score of 746 points (out of 1,000), with the company's 22-point increase reflecting improved performances in areas such as billing, image and customer service.
Vodafone shuffles behind Orange with an index score of 738, while Virgin Mobile, which has been included in the study for the last two years, retained their crown as the highest ranking provider within the pre-pay sector, notching up an overall index satisfaction score of 753.
Virgin Mobile earned customer plaudits for their cost of service and customer service factor, with Vodafone once again consigned to a close second place with an index score of 742.
T-Mobile, on the other hand, slumped below the industry average for both its pre- and post-pay offerings which registered just 708 overall. O2 just scraped in, matching the industry average rating of 733.

The authors of the study claim that the results reflect the positive impact of increasing competition and lower tariffs.
Customer loyalty has also been encouraged by companies offering existing customers new tariffs rather than just new customers.
It would appear that mobile users are a happier bunch, with overall customer satisfaction increasing to 723 index points from 711 in 2004 in the pre-pay segment.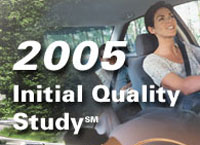 The contract segment seemed a well-chuffed bunch too, with satisfaction levels rising to 733 index points from 720 index points in 2004.
"It pays to satisfy your customers, because those most satisfied will give the highest number of recommendations, thereby increasing sales," advised Gunda Lapski, director of European telecommunications and utilities services at J.D. Power and Associates. "A good reputation can have a positive impact on the number of customers held by a provider."
The study asked consumers what had been their main reason for selecting their network provider. Fifteen percent of customers were influenced by having friends, families or colleagues on the same network, while a further eight percent made their decision after having a network recommended to them.
Virgin's network clearly contains a host of happy bunnies, with nearly 50 percent of its pre-pay customers ready to recommend their current network provider, while 45 percent of Orange contract customers were prepared to do the same.
The phones themselves were the only factor not to achieve an increase in customer satisfaction, with nearly half of all customers having replacing their handsets in the past 12 months.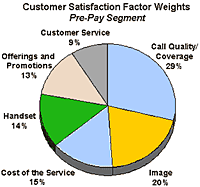 Mobile technology and photo messaging is still a hot potato, with 35 percent of all mobile owners snapping on camera phones and 21 percent sending photos from their mobiles.
Accessing the Internet to check mobile accounts has also grown in popularity, with 16 percent visiting their provider's Web site in the past 12 months to do so, compared to 13 percent in 2004.