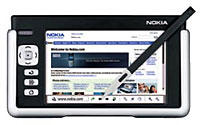 Nokia has surprised pundits at the LinuxWorld Summit in New York by announcing their new Nokia 770 Internet Tablet, a handheld Wi-Fi device for accessing the Internet around the home over a wireless broadband connection.
Looking like a chunkier, Darth Vadar-esque version of their Nokia 7710 smartphone, the half-pound tablet measures three-quarters of an inch thick, 5.6 inches wide, and 3.1 inches deep.
Sporting a 4.1 inch 65K colour TFT touch screen display, the PDA-like device is being touted as a cheap alternative to buying an extra personal computer for connecting to the web around the house.
To that end, the 770 boasts 802.11b/g Wi-Fi and a v1.2 Bluetooth system supporting the Dialup Networking, File Transfer, GAP, Serial Port, and SIM Access profiles, with a USB port provided for wired connectivity.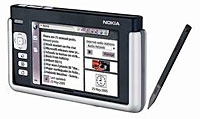 The included 1500mAh battery should keep going for about 3 hours of browsing or 7 days of standby time.
Nokia imagines that consumers will leave the 770 in places like the sofa, by the bed, in the loo etc, providing an 'instant on' way to quickly check up on email, football scores, do a quick web search etc.
"We are very excited to introduce our first Nokia Internet Tablet device to the market. With the Nokia 770 Internet Tablet consumers can access broadband Internet services away from their desktop, for example in the backyard or at a cafe within a Wi-Fi hotspot," spun Janne Jormalainen, Vice President of Convergence Products, Multimedia, Nokia.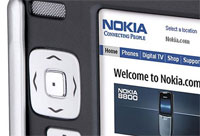 Unlike some teensy-weensy mobile displays, Nokia's sizeable 800×480 pixel screen should make browsing the web and interacting with email a reasonably practical proposition.
Text can be inputted via a virtual keyboard or by stylus using the handwriting recognition system with a hardware interface consisting of a 5-way d-pad controller and buttons for home, menu, escape, zoom, and full screen.
The unit will come with an Opera web browser and email client built in, as well as a RSS news reader, Internet radio, various media players, world clock, a PDF viewer, and Flash v6 compatibility.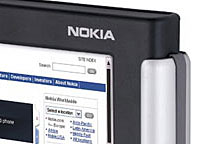 Naturally, there's an orgy of acronyms detailing the zillion and one audio and video formats that the unit supports (deep breath): MP3, Real Audio, MPEG4, AAC, WAV, AMP, MP2 audio support, with MPEG1, MPEG4, Real Video, H263, AVI, 3GP video support and a slew of common graphics formats supported, including Animated GIF JPEG, BMP, GIF, TIFF, PNG and SVG-Tiny. Phew!
A user-installable software patch – scheduled for release at the beginning of 2006 – will introduce Voice Over IP (VOIP) and Instant Messaging to the feature set.
The 770's software is based on Debian Linux (v2.6), with the new platform – derived from the Linux GNOME UI – going under the name "maemo".
Nokia intends maemo to be an open platform and will provide a SDK in the hope of stimulating software developers into writing customised software.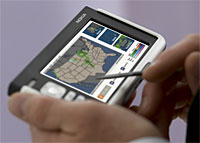 "Linux is a logical choice for the Nokia 770 Internet Tablet as Linux and the Open Source development platform provide us with fast and efficient solutions to build products for this new Nokia product category," added Janne Jormalainen.
Powering the Nokia will be a TI 1710 OMAP (ARM based) processor, offering 64MB of DDR RAM and 128MB of internal FLASH memory. Around 64MB of this should be available to the user.
There's a RS-MMS card expansion slot onboard and the unit will ship with a 64MB card.
Rounding off the package is a USB cable, travel charger, carry pouch and a desk stand. Sadly, the meanies at Nokia have not included a stereo handset but at least they've had the courtesy to include a regular 3.5mm stereo headset jack instead of the usual proprietary rubbish.
The Nokia 770 Internet Tablet is planned to start shipping in the third quarter of 2005 in selected countries in the Americas and Europe, retailing for $350 (~£191, €277).