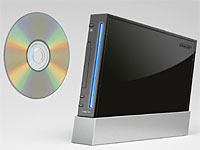 After the high profile launches of Microsoft's next generation consoles, Nintendo disappointed razzamatazz-seeking visitors at the E3 show by serving up a rather understated presentation.
Beginning with a talk about their plans for their other consoles, Nintendo revealed their upcoming Game Boy Micro and the "Nintendo WiFi Connection", a free worldwide gaming service for the DS.
Of course, what the assembled hacks really wanted to know about was the new Revolution console, but Saturo Iwata, Nintendo's main man, was coy on specific details, offering a black prototype box with a blue front-loading disc drive.
This, Iwata explained, was still only a prototype and the small size – about the same as three DVD cases stacked on top of each other – may become even smaller by the time the Revolution hits the shops.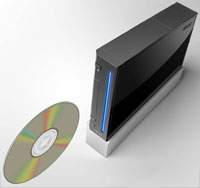 A few facts did emerge: the Revolution will come with 512MB of internal RAM, an IBM CPU, ATi GPU, an SD slot, built-in WiFi, wireless controllers and a selection of USB2 ports.
The expected whizz bang, jaw-dropping demo videos were not in attendance, although Itawa assured the audience that the Revolution's graphics will "wow" gamers when they finally get an eyeful of them.
Not everyone is convinced about these claims, with some industry pundits predicting that the Revolution's processing power will be but a mere squeak compared to the mighty powerhouses lurking inside the PS3 and X360 consoles.
But Nintendo's success has been built on gameplay not sheer grunt, a fact highlighted by Itawa, "It is the game experience that will most separate Revolution from its competitors."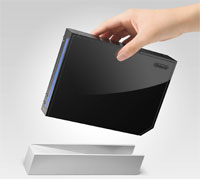 Nintendo's new machine will be their first console capable of playing standard storage DVDs, but they haven't forgotten their old-school fans, with the Revolution able to accept Ye Olde Gamecube discs.
Impressively, the company has ensured that backward compatibility goes all the way back to the dawn of time, offering support for every single game that has ever been released for a Nintendo home system – including N64, SNES and NES consoles.
Nintendo teased the crowd with talk of a new online content delivery service, although actual details were thin on the ground.
Unlike Sony and Microsoft, Nintendo were unable to roll out an all-star glittering cast of big name game partners, although Itawa was able to confirm several games under development for the Revolution including Metroid Prime 3, The Legend of Zelda, Mario and Donkey Kong.
The Final Fantasy series is also expected to appear onto the Revolution as Final Fantasy Crystal Chronicle.
Rumours persist that Nintendo may have a surprise up their sleeve for the end of the expo, but so far reaction to their presentation seems a little muted.
The Revolution faces fearsome competition from Microsoft's Xbox 360 and Sony's PlayStation 3 as manufacturers move to create digital entertainment hubs rather than simple video games consoles.
"They are all pursing strategies that really play to their own strengths," said P.J. McNealy, a senior analyst at American Technology Research. "At this point it is primarily marketing and position, that's the main goal here."