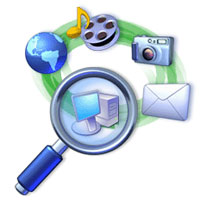 Microsoft has released the final version of MSN Desktop Search, offering new features based on extensive user feedback and boasting extended support for file types.
Along with Internet Explorer, search toolbars reside in Windows Explorer and Microsoft Office Outlook, with desktop searches available via a toolbar in the Windows taskbar.
The free 5.5Mb download (in contrast to Google's 700K) can index over 200 types of files, ranging from Office 2003 documents to Outlook contacts, calendar files and emails including attachments, with add-ins available for specialised files, such as PDF, DWF and ZIP files.
The new toolbar has ramped up multimedia file support, including GIF, JPEG, Adobe files and MP3, with browser-style "search as you type" input fields to speed up searching.
It's now possible to select which items should be indexed, with a dialog box letting users choose specific files and locations.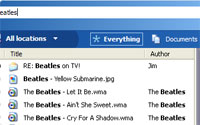 These advanced indexing options also let users specify file types to be indexed as text, create a list of file types that should not be indexed, decide the location of the index file and boost the priority of the indexing process (although this may cause some PCs to run as slow as a tired sloth on Mogadons, but at least it can be turned off).
The new version lets users customise how the program sorts different files — by date, size, author or sender etc – with Justin Osmer, product manager for MSN Search, gleefully boasting, "You can really slice and dice the results any way you want."
Search results are now accompanied by a preview pane that displays a summary of a selected results with the option to launch the targeted file's native application.
As with the beta release, the MSN desktop search application positively demands that the MSN Search Toolbar be installed, with the product parking itself inside Internet Explorer.
Although users must have MSN Search Toolbar installed to use MSN Desktop search, it's possible to select which features are enabled on the toolbar, and to hide MSN navigation links to services such as Hotmail, Messenger etc.
Conveniently, users can also change the default search engine from MSN Search to any other search engine.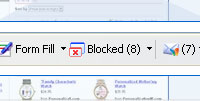 As is the norm with search toolbars, there's a pop up blocker and form-filler installed, although there's still no Firefox-style tabbed browsing on offer, although MSN says it will be added soon.
MSN also is launching a new Web site, addins.msn.com, serving up a selection of third-party developer additions to the desktop search toolbar.
The competition for the desktop search market is getting hotter than Justin Timberlake's underpants, with Google and Yahoo already off to a flying start.
Although Microsoft's offering may not have enough features to tempt those using rival services, it may prove perfect for regular users of Microsoft Office and Internet Explorer.