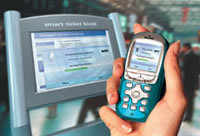 According to industry insiders, trials of mobile phones doubling as payment tools will be taking place in Taiwan shortly, marking a big step for the nation's contactless technology development.
They're using Near Field Communication (NFC), a close-range wireless technology that operates over a few centimeters, enabling the simple transfer of information. Created by Nokia Corporation, Royal Philips Electronics and Sony Corporation, it uses a restricted version of RFID and we've been last 18 months, or so.
Taiwanese cardholders can already make payments at contracted petrol stations, coffee shops, video rental stores, train stations etc by simply waving their NFC-enabled device in front of sensor devices.
BenQ, one of the 12 partners in the NFC consortium, is expected to deliver 100 new mobile phones embedded with smart chips for the trial program next month.
Stage one of the trials will be conducted by Taipei Smart Card Corp, who will start testing the BenQ phones as a means of payment for services on bus lines, the MRT and public parking lots in the capital.
If that all goes tickety-boo, developers will look to strike deals with mobile service providers to integrate chips with Subscriber Identity Module (SIM) cards in handsets, giving access to mobile banking functions and even debit or credit card functionality.
The merging of cell phones and IC-chips is part of the government's M-Taiwan (mobile-Taiwan) scheme, which put together a (NFC) consortium in November last year.
Taiwan's alliance pooled the resources of BenQ, Taipei Smart Card, the Institute for Information Industry, five cellphone service providers, MasterCard International and Visa International.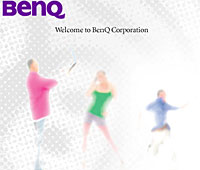 NFC handset payment services are already tickling the public's imagination in Japan and South Korea.
In Japan, Sony has been conducting contactless payment services with a mobile phone operator and train company, and in South Korea, SK Telecom has launched the Moneta card program with a circulation of 100,000 Visa-enabled mobile handsets.
According to Peter Manners, regional head of Visa International Asia-Pacific, the next phase is to promote the use of Universal Subscriber Identity Module (USIM) cards in 3G handsets.
Addressing besuited execs at the Smart Card Expo at the Taipei International Convention Center, Manners said Taiwan is second only to Malaysia in the Asia-Pacific in terms of chip-embedded card penetration.
Nokia 3220 Brings Contactless Payment and Ticketing
BenQ
NFC Forum