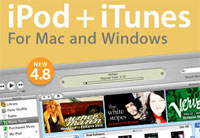 With ne'er a whisper or a parp on the PR trumpets, Apple has quietly released an updated version of the iTunes software as a free download from its Web site.
Described as including "new Music Store features and support for transferring contacts and calendars from your computer to your iPod," iTunes 4.8 has a big surprise lurking in its bag – the capacity to play movies within it.
With all the stealth of a Dickensian pick-pocket, Apple has also added some short promotional music videos to the service, supplementing the music videos and movie trailers hosted through iTunes.
The short .mp4 format promos may not exactly be Hollywood blockbusters, but it's an effective 'proof of concept', illustrating how Apple could easily offer full-length video through its store.

Mindful of the marketing value, Apple has made music videos available initially on purchase of albums or tracks from the Dave Matthews Band, Morcheeba, Gorillaz and The Shins.
For example, fans shelling out for the Dad-friendly Dave Matthews Band album, 'Stand Up', can also download a digital booklet containing the album artwork, a five minute video (55MB download) showing the making of the album, with the all the usual bundled extras like interview clips etc.
Downloaded video clips can only be played in iTunes, with an option to watch the video in full-screen mode.
The updated software also lets iPod owners manage contact and calendar information, with the choice of synchronising all or some of the contacts in Apple's Address Book, as well as all or some of their iCal calendars.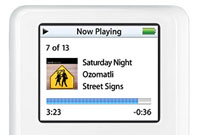 The new version also includes a security fix to patch up a vulnerability relating to MPEG4 file buffer overflows (they sound rather painful).
By bolting on video functionality, Apple seems to be shimmying ever closer to the full integration of iTunes and Quicktime (iQuick? TuneTimes? Quines?), with the iTunes music store now offering videos and movie trailers for free viewing – just like the QuickTime homepage.