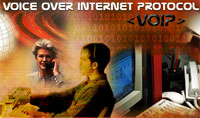 Figures from a new study by ABI Research reveal that annual global sales of "dual-mode" mobile phones – clever-clogs handsets that can connect to either a conventional cellular service or a Wi-Fi network – are likely to exceed 100 million during the final year of this decade.
Currently, such dual mode devices are as familiar to the public as the five headed Dongo Worm, with most of the enterprise sector equally clueless.
But according to ABI Research senior analyst Philip Solis, some of the King Dongs of global telecommunications – notably British Telecom and Korea Telecom – plan to roll out dual-mode services as soon as the end of 2005.
"The advantages of dual mode handsets and services, when they arrive, can be summed up in two words: seamless and economical," he said.
In the wonderful future world of dual mode phones, seamless network switching between networks is promised, although all the groovy stuff is unlikely to appear in the first generation of products.
When the technology is mature, users should be able to ring up a chum and start rabbiting at home, with the phone connecting via the residential Wi-Fi network, in turn connected to a broadband VoIP phone service.
The nattering can continue uninterrupted in the car to work, with the phone automatically switching to a cellular network, and there'd be no need for the marathon chinwag to come to an end upon arrival at work, as the phone could switch to the company's 802.11 LAN, and VoIP.

Despite all the travelling through different locations, the smartypants handset would sense the available signals and switch automatically from one network mode to another, keeping the user connected at the lowest cost.
With the Digital Lifestyle office currently sporting a desk-hogging, charger-needing collection of mobile phones, DECT phones and Skype phones, we can't wait for the telecoms convergence revolution to happen.
Elsewhere, Infonetics Research has predicted that VoIP service revenues will jump from 2004's US$1.3 billion (~€1.01bn~£690m) to US$19.9 billion (~€15.5bn~£10.5bn) in 2009 – a 1,431% jump.
Infonetics directing analyst Kevin Mitchell commented that part of this growth can be attributed to the technology's newness, noting that with VoIP services representing less than 1% of wireline carrier revenue in North America last year, the market can't really go anywhere but up.
"Growth is driven by carrier footprint and solution expansion, marketing, and service bundling, leading to more adoption by new business/government/education and residential/SOHO customers and increased usage at more sites," Mitchell said in a statement. "Our forecast also assumes that revenue growth is due to incremental revenue from add-on VoIP applications, such as conferencing, remote office integration, presence/location-based services, and collaboration."
Infonetics also expects the number of residential and small office/home office VoIP subscribers to rocket from 1.1 million in the last year to 20.8 million in 2008.