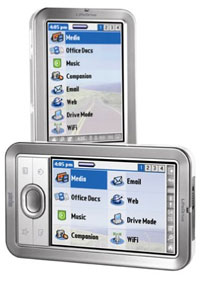 After months of rumours on the Web, details of palmOne's new LifeDrive PDA have finally shown up on Amazon.
Engadget.com reported that the listing confirms that the US$499 (~£262 ~€385) device will come with a 4GB Hitachi Microdrive, SD card slot, 320×480 hi-resolution colour display (with portrait and landscape viewing) and offer Bluetooth and 802.11b Wi-Fi wireless connectivity.
The LifeDrive handhelds will be powered by a 416MHz Intel XScale PXA270 processor and run on the Palm GarnetOS, which includes support for wireless connections such as Bluetooth.
The device will be a little larger than palmOne's latest high-end model, the Tungsten T5, sizing up at 4.7 inches tall, 2.8 inches wide, and a pocket-threatening 0.8 inches thick. It will weigh 6.8 ounces.
According to sources, the music-playing device will use Pocket Tunes and sync with Real's Rhapsody music service, suggesting that it could be seen as a turbo-charged challenger to Apple Computer's US$199 (~£104 ~€153) 4GB iPod Mini.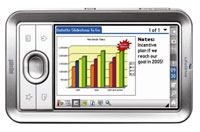 NormSoft's Pocket Tunes is able to play MP3, WMA, Ogg Vorbis, and WAV files and the unit will also support full screen video and photo playback.
Business users will be catered for with the bundled DocumentsToGo software supporting Word, Excel, PowerPoint, and Acrobat files.
The unit also comes with 'Camera Companion' software for transferring photos to and from the device, with 'Drive Mode' allowing users to plug their handheld into the USB port on a PC and have the microdrive appear as a removable drive.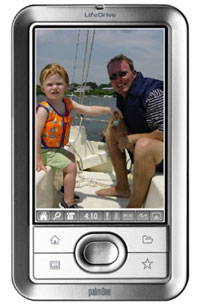 The LifeDrive comes with USB 2.0, so transferring files onto the microdrive should be a fairly nifty business.
Despite black leather clad doomsayers predicting the death of the PDA, palmOne clearly thinks that a hard drive-based multimedia device able to take advantage of the immense software resources of the palm platform could be a winner.
There's certainly industry interest elsewhere, with Dell rumoured to be considering a hard drive based handheld.
Although there's been no official announcement from palmOne, the LifeDrive is expected to launch in the US on 18th May, 2005.