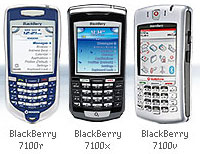 Research In Motion (RIM) have announced that that the BlackBerry wireless communicator now boasts 3 million worldwide subscribers, with one million subscribers added in less than six months.
The rise of RIM users has been astonishing. BlackBerry subscribers reached the one million mark in February 2004 with that figure being doubled in less than ten months as the company reached two million subscribers in November 2004.
"It's an exciting time as BlackBerry continues to enjoy enormous success and rapid growth around the world," purred Jim Balsillie, Chairman and Co-CEO, Research In Motion. "With over 50,000 retail points of presence, accelerated geographic expansion and the anticipated addition of 100 new carriers in 2005, we are scaling our operations for the five million and 10 million subscriber milestones."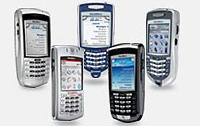 BlackBerry Enterprise Server's ability to integrate with Microsoft Exchange, IBM Lotus Domino and Novell GroupWise (and other existing enterprise systems) has proved a hit with corporate customers keen to take advantage of push-based wireless access to e-mail and other corporate data.
Individuals and smaller businesses have also been attracted to the BlackBerry Internet Service, which allows users to access up to ten corporate and/or personal e-mail accounts (including Microsoft Exchange, IBM Lotus Domino and many popular ISP email accounts) from a single device.
Looking to the future, RIM is teaming up with Microsoft and IBM to extend instant messaging to BlackBerry subscribers through Microsoft Office Live Communications Server 2005 and Lotus instant messaging.
Pulsating with confidence, the company says it is gearing up to cope first with 5m subscribers and then 10m users, although it failed to give any idea of when they might expect to pass these hefty milestones.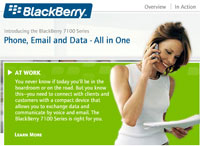 With the NTP lawsuit now resolved, RIM is free to follow its European initiative and license its Blackberry Connect software to US mobile phone vendors, so we can expect to see more third-party phones and handsets connecting to the service.
Recent figures revealed that BlackBerry recorded a 76 percent increase in its total sales in the first quarter of 2005, while its main competitor Palm saw its sales slide by 26 percent.