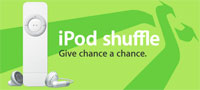 Purring like a cat recumbing in cream, Apple CFO Peter Oppenheimer revealed that Apple's iPod shuffle has snaffled a 58 per cent share of the flash-based digital media market in the US.
The iPods shuffle's market share rose from 43% in February to 58% in March, with Oppenheimer positive that the flash-player market share will continue to grow.
He told Merrill Lynch analyst Steven Milunovich that Apple was "supply-constrained in March" suggesting that the figures for April will be more sales-tastic.
According to Apple's own figures, the company now boasts a 90 per cent share of the hard disk-based MP3 player market and 70 per cent of the digital music download market.
Apple's CFO asserted that "Apple isn't feeling the competitive heat yet" from other digital media device manufacturers like Creative, Sony, iRiver and others, insisting that Apple "doesn't appear concerned" about the threat from music-playing mobile phones.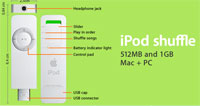 Positively glowing with confidence, Oppenheimer claimed that MP3 capability in handsets will be more complementary than a replacement, with handsets suffering from "a worse user interface and limited battery life,"
Despite the much-publicised non-appearance of the iTunes-capable Motorola handset, Oppenheimer was equally upbeat about working with mobile phone operators.
Milunovich expects Apple to reveal iPods with wireless and video capacity before Christmas, guessing that new Ipods will be able to play short video clips.
Apple Exec: Shuffle Grabs 58% of Flash Player Market; What Cell Phone Threat?