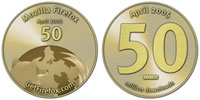 Like a hungry, hyperactive terrier, Firefox continues to take great chunks out of Microsoft's market share as the Mozilla Foundation announces its 50 millionth download.
To commemorate this grand occasion, the foundation has created 50 limited edition coins, to be dished out to the best contributors to their forums.
An additional mystery prize will be given to the owner of the Web site responsible for the 50 millionth download.
"It's funny how the counter just blows by 50 million without a care in the world, isn't it?" Mozilla developer Blake Ross purred on the foundation's Web site. "But it's not just a number to us. It's a validation of half a decade of work, and the beginning of half a decade more."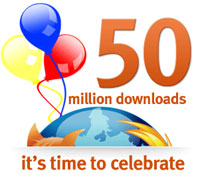 Fully released last November, Firefox has delivered a turbo-charged size nine up the backside of the Web browser market which seemed to be heading for stagnant domination by Microsoft's ubiquitous Internet Explorer.
The adoption of Firefox has been driven by reports of seemingly endless security holes found in Internet Explorer, with some prominent security researchers even recommending against using IE if possible.
Security conscious companies have taken heed of this advice, with TechWeb News reporting that the Firefox browser is used by more than 10 percent of business professionals, adding that the number could "more than double" by the end of the first half of the year.
Victor Janulaitis, chief executive of management consultants Janco, commented: "Since the fourth quarter of 2004, Firefox usage has more than doubled among business professionals. That rate of adoption is expected to continue next quarter, when the open-source browser is expected to reach up to 25 percent of the market."
The next version of Internet Explorer is expected to include enhanced security and many of Firefox's popular features (such tabbed browsing), but Microsoft won't be shipping the IE 7 beta until this summer.
Firefox has also seen several critical security flaws emerging over the past few months, but it is still generally perceived as a 'safer' browser.
FireFox Browser Gains Popularity
Firefox Used By 1 Out 10 Business Professionals
Mozilla