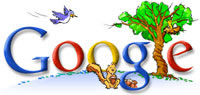 Champagne corks were popping like manic machine gun fire at Google yesterday as the company reported a thumping fivefold increase in profits in the first quarter.
The Californian search giant purred loudly as it revealed that net income for the quarter ended 31 March, based on generally accepted accounting principles, was $369 million (£193/€282m) or $1.29 (£0.67/€0.98) a share, compared with a measly $64 million (£33.5m/€49m) or 24 cents a share, for the same period a year ago.
Naked execs excitedly rolled around in beds covered in dollar notes* as revenues for the quarter racked up to $1.26 billion (£0.65bn/€0.96bn), a massive 93 percent increase from the previous year.
"This was a very strong quarter for Google," revelled Eric Schmidt, chief executive for Google, "We continue to execute well and we have been able to take full advantage of the growth in online advertising."
Internet advertising revenue as a whole is becoming a large, well-fed cash cow, increasing by 32 percent last year to just under $9.6 billion (£5.02bn/€7.34bn), compared with $7.3 billion (£3.81m/€5.58m) in 2003, according to the Interactive Advertising Bureau.
Google's own sites, which rely heavily on paid search results and on users clicking on ads, brought home $657 million (£343.6m/€501.7m) – 52 percent of the company's total revenues and a 116 percent increase over the same quarter a year ago.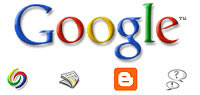 Revenues generated from Google's partner sites through its AdSense programs generated $584 million, or 47 percent of revenues, – a hefty 75 percent increase over partner-related revenues a year ago.
They've also been bulk-buying new desks and chairs and introducing crowd control around the water cooler at Google, with the company hiring another 461 employees since the end of the fourth quarter last year, bringing the total up to 3,482 full-time employees.
(*we may be exaggerating slightly here)