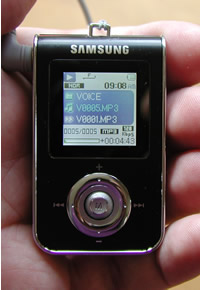 Samsung have made their intentions clear. They want to be the number one in portable music players.
The YP-T7 is a new generation player, designed as an attention grabber, to play to Samsung's strengths – they are one of the three companies that actually manufacture LCR screens and they produce Flash memory.
It's very small, light and packed with wowee features. Music formats support is broad (MP3, Ogg Vobis, Windows media) and the quality of playback is strong, as are the included headphones.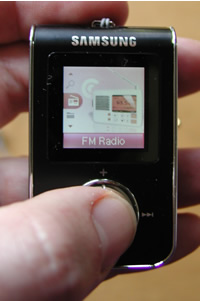 The potential of the 65k colour screen is well demonstrated by the graphically-rich menuing, but when you try to display photos and text files on it, its limitations are highlighted – it's just too small, and when loading images, slow.
The on-board microphone and adjustable recording quality really impressed us, making it ideal for interviews and podcasts. The FM radio is among some of the best we've used on a portable player. The USB-rechargeable battery appears reasonable, with the official running time being listed as 10 hours, as would be expected from a Flash-based player over an HD-based one.
We're impressed with this beauty. Compact, highly competent player with quality mic-recordings.
Specification
Weight – 36g
Dimensions – 37 x 62.5 x 14mm
Colour screen – 65,000 colours
Music formats – MP3, Ogg Vobis, Windows media
Interface Type – USB 1.1, USB 2.0
Battery Life – 10 Hours (Samsung figures)
Price – US$190 (€147/£102)
Stars – 4 out of 5


Pro
Very compact, Strong, quality mic recordings, Good radio, decent battery.
Con
Photo support not great
Summary
A very competent player who features raise it slightly above the rest of this crowded, fast-moving sector, and will impress your mates … but for how long?