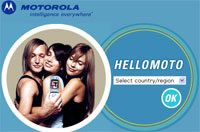 Motorola handset owners will now be able to go multiplayer bonkers, courtesy of a new selection of real-time, multiplayer games from Motorola's consumer portal, www.hellomoto.com.
The company claims that the addition of multiplayer gaming will make "full use of the multi-media capabilities" of their devices, with the games delivering "a compelling, interactive gaming experience for consumers, which keeps them returning, consequently driving ARPU for operators."
Based on Terraplay's fixed line multiplayer technology (as used for online Playstation2 gaming), Terraplay MOVE supports mobile multiplayer gaming and is being used by a growing number of mobile operators on both 2.5G and 3G networks.
The technology lets users take part in multiplayer mobile gaming, supporting everything from turn-based games, sports games, action games and racing to full multiplayer games with thousands of concurrent players.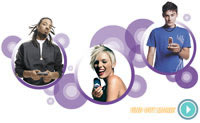 As well as playing directly against other phone users, game-hungry portal visitors will also be able to compete in ladder tournaments, view global rankings and chat in-game.
The service means that if Blodwyn in Bargoed fancies a quick bit of mobile fragging with Fritz from Frankfurt, she'll either be able to do battle through hellomoto.com or via a mobile operator service.
"Motorola believes immersive human-to human-applications will be key drivers for growth in the mobile industry and we are very pleased to be offering such exciting multiplayer games to our customers.
As part of our 'Innovate' programme we are always looking for the very best technologies, such as Terraplay, to support the considerable capabilities of our handsets, and in addition drive additional revenues for our operator customers." Says Ronan Smyth, Applications Manager, Motorola.
As part of the service, Motorola will provide a suite of well known games (such as 'No Refuge' and 'Mole War') available for its many handsets, on both 2.5G and 3G.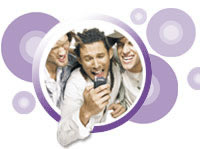 "This represents another major step forward in the development of Terraplay given the stature of Motorola in the global wireless market. Motorola's initiative is excellent news for the growth of the multiplayer sector," purred Jeremy Lewis, Chairman of the Advisory Board, Terraplay Systems, "Multiplayer gaming, offered as premium services, is a real revenue generator and an ideal path to higher ARPU for all service providers".
The multiplayer gaming service is available now through Motorola's consumer portal, www.hellomoto.com.
Availability is initially UK only with a roll-out to all other regions soon thereafter.