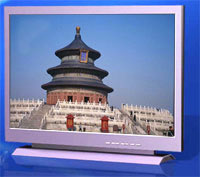 A coalition of government policy makers, technology and broadband companies from China have rocked up to the NAB2005 Media Show in Las Vegas.
They're in town to invite opportunity-seeking US companies to supply programming and interactive content to the Chinese coalition-backed IDV Global Media On-Demand platform, expected to launch in China early next year.
Developed by California-based IDV, the platform was a top-secret project until premiered at the China Media-on-Demand Coalition press conference last week in Beijing, and reflects China's eagerness to create new technologies for the Internet and telecom.
IDV-Global Media – headed by ex-Microsoft's Xbox game console designer, Kevin Bachus – expects the new technology to allow Chinese media companies to securely distribute programs worldwide, direct from publisher to consumer.
Bachus rose to media attention when he left Microsoft to start a rival games console business, Infinium Labs. Their product, the Phantom Game Service, downloaded game content directly over an Internet connection. Digital-Lifestyles has been covering the Phantom since the start of 2004, from its first demo, through the announcement of its launch, to them receiving a $50 million credit investment.
Some of the press had speculate that Bachus had left Infinium. At the start of this week he issued a statement denying that he had left Infinium for IDV Global Media.
Duncan Clark, managing director of the Beijing-based consulting firm BDA China Ltd., warned that IDV-Global Media will need support from a range of participants, including telecoms, media and electronics companies (and the government agencies that regulate them) for the project to work.
"What this initiative claims to attain, aligning the interests of many different players in the value chain, is something that has eluded many a media mogul outside China," Clark sagely added.
IDV GMOD's platform is an end-to-end solution that includes a second generation PC with a 3D "platform-on-platform" architecture developed by IDV – the first system to receive certification from China as the standard for second generation PCs.
Content will be delivered to consumers by digital feeds from global sources, including a next generation Internet, based on the IPv6 technology, with revenue sharing arrangements for partners.
This system will supply sports events, movies, TV shows, next gen games and other interactive entertainment direct to private residences or hotel rooms worldwide, with the same interface, in High Definition (HD) quality video.
The wonderfully named Dr Fan Yeqiang, deputy director of the China Institute of Policy Studies (CIPS), said in a statement, "Now US media publishers and distributors have a direct platform on which to earn millions of dollars in incremental revenues from their content in the China market. We are offering a safe, certified delivery system never available to US media companies before."