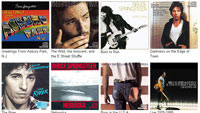 US Record industry honchos will be taking a bigger interest than unusual in the new Springsteen release as they wait to see how the new DualDisc format goes down with Brooooooce fans.
"Devils and Dust," the Boss's 19th album, will also be released in the fledgling CD/DVD hybrid format, marking the first major change in retail music packaging since the compact disc was introduced more than two decades ago.
The format bolts together a standard CD with a DVD on the flip side, and fills it up with fan-tempting extras like video clips, surround-sound mixes for home theatres and lyrics etc.
Springsteen fans shelling out for new DualDisc release will be rewarded with video of their hero performing his new songs and discussing the making of the album.
Although "Devils and Dust" is not the first DualDisc to hit the market, it's the first one released by a major artist exclusively in the format (there will be no traditional CD pressings available) and should provide a useful benchmark to see if the new technology has a viable future.
The four major record labels, EMI, Sony BMG, Universal and Warner created a consortium last year to launch the new audio-video hybrid in the US market, with Sony BMG claiming that where albums have been released in both formats, DualDisc purchases have accounted for around 30 percent of sales.
Of course, you don't get something for nothing in the notoriously tight-fisted music industry, and punters will be compelled to shell out an extra dollar for the bundled DVD content.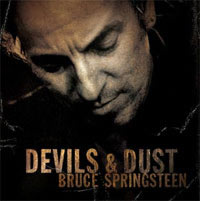 The music business is hoping that the new format – and the extra cash – will help recoup the slice of the retail market lost to piracy and illegal file-sharing. "It's harder to file-share DVD content and it's virtually impossible for anyone to burn a DualDisc at home," purred Thomas Hesse, president of global digital business for Sony BMG.
"We think all this will lure people back to the stores, because it's a product you can't really get in pirated fashion," he continued.
But there's a darkness on the edge of town, as critics complain that the DualDisc is just another industry wheeze to push consumers into repurchasing the albums they already have on CD.
Hesse was having none of it, reminding critics that because no extra hardware is needed, "it's really a new product, rather than a new format", adding that plans were looming to roll out the DualDisc in European markets.