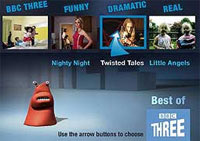 BBC Three viewers will be able to schedule their own Sunday night viewing in a pioneering multi-screen application trial starting on 1 May 2005.
The service will work like a stripped down Video On Demand (VoD) service without the need for a dedicated infrastructure or additional consumer boxes.
From 9.00pm on Sunday nights, digital satellite viewers will be prompted to bash the red button on their remotes and be rewarded with a choice of three BBC THREE programmes, in addition to the channel's live transmission.
The programmes will be categorised under Dramatic, Funny and Real, with the first night's offering serving up the first two episodes of Nighty Night; the first and second episodes of the second series of Twisted Tales; and the first and second parts of the second series of Little Angels.
Stuart Murphy, Controller of BBC THREE, explains: "The 'Best of Three' multi-screen trial is a bold and ground-breaking new application which offers viewers more control and greater access to the wide range of programmes on BBC THREE."
"In the future we believe viewers will want to watch their favourite show when they want it and not wait until a scheduler decides to transmit it.
"It's a key stepping-stone to true video on demand in a free-to-air digital environment, and shows that we are serious about BBC THREE being the country's most innovative digital channel, which evolves as fast as the audience's tastes and needs."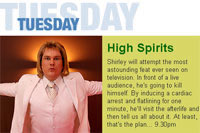 Emma Somerville, the BBC's Head of Interactive Programming, added: "Interactive TV can really help our audiences engage with the BBC's TV channels."
"The 'Best of Three' multi-screen will test new ways of giving viewers more flexibility over when and how they want to enjoy our programmes."
Viewers will be encouraged on air to try out the new service and the trial will last for six months.
The BBC hopes that the service will prove a showcase for the multi-genre offering of BBC THREE content and enable them to get more value from the full range of programmes that the channel broadcasts.
If all goes to plan, viewers will be encouraged to sample programming that normally wouldn't whet their tele-whistles and also use the service to watch programmes that they might have missed.
If the trial is a hit, the BBC plans to roll out this application on Freeview and digital cable.