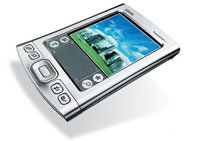 PalmOne's Tungsten E – introduced in 2004 – proved to be a rip-roaring success, becoming the top-selling handheld in North America and among one of the best sellers world-wide.
However, the handheld market has changed rapidly in the past eighteen months, with the growth of rival Windows powered PDAs and, more importantly, the explosion of smartphones offering PDA-like features.
Unlike the groundbreaking PDAs created by the innovative Sony Clie range (sadly since departed the Palm platform), palmOne have decided to play very safe indeed, with the new Tungsten E2 using the same tried'n'trusted design as the Tungsten E and Tungsten T5 units.
This means that the plastic tablet-style unit measures up at a reasonably lithe 114 x 78 x 15 mm and weighs a pocket-unchallenging 133 grams.
A square 320 x 320 16-bit colour TFT dominates the front of the unit, which palmOne claims is "typically 30% brighter than the Tungsten E display" with "40% better colour saturation". As usual, there's a fixed handwriting area below.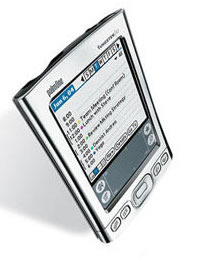 Apart from the inclusion of palmOne's new Multi-Connector serial port (replacing the previous mini-USB port), everything is much the same as its predecessor, with the directional pad, application buttons, SDIO slot, IR port, headphone jack and metal barrel stylus being unchanged.
What is new, however, is the overdue inclusion of Bluetooth 1.1, supporting all the standard profiles with a helpful onscreen wizard aiding connectivity. Sadly, Wi-Fi is not included, although palmOne claims that the E2 works just dandy with their SDIO Wi-Fi card.
There's been some tinkering under the hood, with the unit sporting a new 200 MHz processor (up from 126MHz) which should make most Palm apps purr along nicely, and the inclusion of non-volatile memory to avoid data loss in case the battery runs down. Shame there's only a measly 32MB on offer though.
Battery life, as ever, is excellent, with some users reporting that they've managed to squeeze an amazing 17 hours of non-stop MP3 playback out of the device (palmOne claim a more modest 10-12 hours of continuous use).
MP3 playback comes courtesy of the bundled RealOne audio player, with users able to listen via the built in speaker or headphones.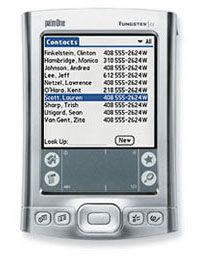 Other software includes a media suite (for playing back videos or viewing photo stills) an upgraded PIM suite, Web browser in ROM, with VersaMail and Documents To Go available on the included CD.
For an entry level PDA, the new palmOne E2 is a very capable device, with the inclusion of Bluetooth, superb battery life and improved multimedia features making it an attractive offering for budget-minded professionals and consumers looking for an affordable handheld.
OUR RATING: 4/5 stars Cost: £169 (US$249, €248)