Automotive DAB market gets a boost with successful road trials and three new design wins for Frontier Silicon.
In possibly the longest sentence we've ever read in an announcement (68 words long!), Frontier Silicon breathlessly informed us of the success of their trials with the Roadster automotive DAB module.
The Roadster module, launched last year, is based on the award winning DAB technology already in use in over 70% of DAB radios on the market today.
The module allows OEM (original equipment manufacturer) fitting of DAB into integrated head units in the car, giving drivers a wide choice of DAB services.
In addition, the module supports telematics features such as Traffic Message Channel (TMC), TPEG and other emerging traffic data services at the full DAB decode rate.
The vertically mounted module is a fully shielded, self-contained complete system featuring Eureka 147 DAB receiver, dual band (Band III and L-band) high performance RF front end, base band processor, power supply, flash memory for program and data storage, additional random access memory and a full suite of firmware.
The Roadster module operates from a single 3.3V supply, pulling just 800mW power while decoding DAB, and also includes a phantom antenna power supply to support active antenna arrangements.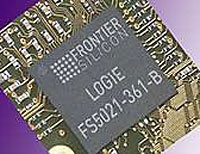 The whole caboodle measures only 55mm x 37mm x 13mm and is designed to mount inside a 1DIN radio/CD player.
Steve Evans, VP sales, Frontier Silicon, opened up his big book of industry buzzwords and let rip: "The automotive Infotainment market is an exciting area and a natural extension of the consumer DAB radio market which we have successfully helped to grow over the last three years."
"The key factors that enabled our Roadster module to be successful in Winning the design slots with these manufacturers are its RF performance, power consumption and small size as well as the robust and feature-rich firmware that we are able to supply alongside the module. The ability to support TMC on the module was also considered an advantage." He added, "We are looking forward to seeing the first production cars later this year with DAB functionality enabled by the Roadster module."