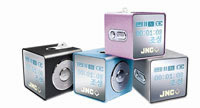 It must be tough trying to get noticed in the crowded MP3 player market.
Most small concerns haven't got a hope in hell of competing with the grace or design finesse of Apple, neither have they the resources to dream up the compelling feature sets served up by the likes of Creative and iRiver.
So squeezed on both sides, smaller MP3 manufacturers often serve up designs "inspired" by their successful rivals, try to get noticed by playing the wacky design card or claim some kind of world record for their product.
So, no prizes for guessing what route MobiBlu have taken with their DAH-1500 player, billed as the "world's smallest MP3 player".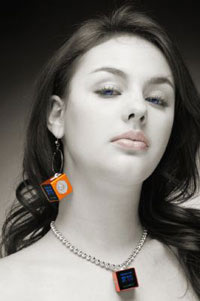 The new teensy-weensy MobiBlu DAH-1500 player apparently offers MP3 and WMA support, a FM tuner and a claimed 15- 20 hours battery life (we say 'apparently' because our Japanese translation skills aren't too good).
But it certainly is a wee little fellow, measuring a Tom Thumb-esque 24x24x24mm and weighing in at just 18 grams.
The unit features an attractive OLED display taking up one side, adjacent to a iPod-style circular control wheel.
In an interesting twist, MobiBlu's press agency seem to think that showing someone about to drop their sugarcube-shaped player into a cup of tea forms a winning marketing strategy.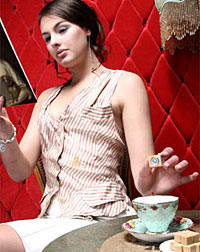 If users manage to avoid dunking the player, their publicity photos also suggest they can wear the device as a head tilting earring or lug it around the neck as a clunky necklace. Cool, or err, what?
There's some remote hope that the unit may see the light of day sometime this month – we spotted this rebranded JNC Digital version on the web.