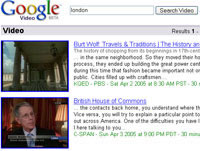 Google plans to invite users to submit personal video clips for archiving as part of its recently launched video search service.
In a speech at the annual cable industry convention in San Francisco, company co-founder Larry Page announced that the company will start taking home video submissions from people, adding that, "we're not quite sure what we're going to get, but we decided we'd try this experiment."
Not surprisingly, Page admitted to having concerns about the nature of content that people may want to upload (but we think that that may only add to the appeal of the service!)
Google first rolled out the test version of its video search service in January, allowing users to find content in television programs from such providers as PBS, Fox News, CSPAN and local ABC and NBC affiliates in San Francisco.
The service, called Google Video, offers up still images from the video clips and associated closed-captioning, but users cannot view video or read a transcript of the program due to unsettled licensing terms.
In the meantime, an "About this show" option provides information on the program's next air time.
Google has already established search relationships with numerous content and broadband providers, with Google co-founder Sergey Brin commenting, "We're always looking for ways to expand partnerships."

The company also announced that it would provide data about popular Web searches to Current, a new television network for the 18- to 34-year-old audience, backed by former US Vice President Al Gore and other investors.
Arch-rivals Yahoo have already begun promoting their own TV and video search site, launched as a beta in December of 2004.
Yahoo has also partnered up with TVEyes to index closed captioning content from BBC, Bloomberg and Sky programming, while Blinxx launched their own movie and TV service, blinkx.tv, at the end of last year.
Google barged its way into the world of blogging after buying the popular blogging tool, Blogger.com in 2003.
The growth of affordable digital camcorders (and movie enabled digital cameras) coupled with cheaper (or free) Web space suggests that vblogging could be big news for 2005, creating a need for suitable search tools.