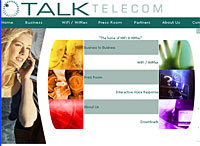 Irish VoIP solutions provider Cicero Networks has announced its first major telecom provider deal with Talktelecom Ltd, an independent, fully licensed General Telco Operator, based in Dublin.
The deal will give Talktelecom's corporate customers access to Cicero's mobile VoWiFi service to its corporate customers, following the completion of a two-month trial.
According to Cicero CEO Ross Brennan, the bulk of mobile calls are made from business premises by people plumping for convenience over cost (fixed-line costs are generally much cheaper than mobile rates)
Talktelecom hope that there'll be healthy profits on the horizon to companies offering a mobile phone service using the global IP network
According to a study cited by Cicero, of the €0.75 (£0.51/US$0.96) cost of a three-minute cellular call, about €0.69 (£0.47/US$0.88) goes to the mobile operator and only about €0.6 (£0.41/US$0.77) to the fixed-line carrier. By contrast, the VoWiFi solution will deliver all of the €0.15 (£0.10/US$0.19) cost of the same three-minute call to the fixed-line provider, leaving room for both higher margins and cost savings for customers.
Talktelecom has deployed Cicero's full package, consisting of three components; the Cicero Phone – a softphone client running on dual-mode GSM/Wi-Fi handsets – a Cicero Controller, handling call management, call routing, QoS, back-end authorization and authentication functions and billing data, and the Cicero Connect, gateway to the PSTN or other external network type.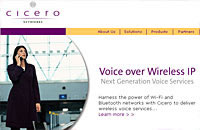 "Cicero Networks' integrated end-to-end solution has given us a fast time-to-market in delivering a truly innovative and cost-effective wireless voice service," buzzworded Talktelecom CEO, Johathan Mills. "Cicero lets us grow our existing business and enter new markets while delivering a substantial return on investment in a short time," he added.
"Talktelecom is pioneering the advancement of fixed-mobile convergence by offering its customers wireless voice services at fixed-line costs," added Cicero's Ross Brennan.
Talktelecom customers will be able to use the Cicero solution wherever a Wi-Fi connection is available, with the company increasing coverage through its recent partnership with The Cloud, managers of the UK's largest wi-fi hotspot network.