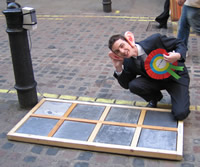 Living Streets, a national charity, launched its election campaign, "Talk to me about streets", by making street items like paving and signs talk back to passers-by in Meard Street, Soho, London.
The charity is campaigning for the need make streets and public spaces safer for residents and available to local communities for socialising and play – in our eyes a worthy cause.
At the risk of giving acid flashbacks to aging hippies wandering by, the charity installed micro-electronics to animate everyday objects in an attempt to get across their message.

Paving 'squealed' underfoot to point out the dangers of tripping over broken paving while spooky whispering windows resonated with the sound of absent children, no longer able to play in our dangerous streets.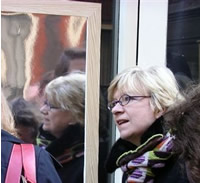 Living Streets Director Tom Franklin explains, "The streets are the one public service that everyone uses. Politicians can directly improve people's daily lives by improving the street environment."
"Pavements for people" is one of the campaign themes. At the moment pavements often seem to be for everything except walking – parked cars, road signs, litter, fly tipping and dangerous clutter. For older people and the blind and partially sighted, it can put people off going out at all.
Many people and companies volunteered their time to make this event a success. Fergus Rougier created the audio for the Whispering Window, and the Clock Tree. Both of these produced sound that would be most unexpected in a city.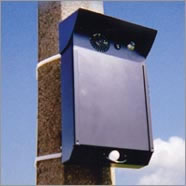 Verity Parker, who is doing an PhD at Brunel investigating electrical conductive fabrics, worked with Stock Displays to produce talking street signs, labelled in standard UK form, but with short audio samples.
Verity's work also worked by referencing the street where the demonstration ran, one example being a stone nose placed apparently randomly on one of the building, lead to one of the pieces of work using voice samples of "I spy" and sneeze (mp3, ogg).
When we spoke to Verity about the project she was full of enthusiasm for it, telling us it was a "privileged to work on the project".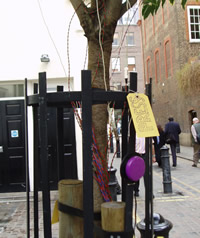 'The street that talks' has the support of the Royal National Institute of the Blind, (RNIB) which also campaigns for streets and the built environment to be more accessible to blind and partially sighted people.
Steve Winyard, Head of Public Policy at RNIB said, "It is vital that people with sight problems are able to walk safely around their streets. The Government surveyed three hundred people with sight problems and found that every one had had an accident whilst walking. A safe environment is fundamental to independent living and for accessing public transport."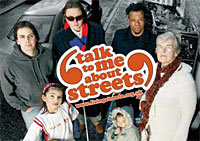 An accompanying new Living Streets' pamphlet – written by two of Britain's most eminent architects, Lord Richard Rogers and Sir Terry Farrell – was also unveiled at the event.
The 'talking pavestones' concept was based on the 'tune stones' exhibition created for Eureka! The Museum for Children in Halifax when it opened in 1992, while the event has some resonance with the aims of the direct action, eco- activist group, Reclaim The Streets.
Audio samples
Fergus-Rougier-1 mp3, Ogg Vorbis
Fergus-Rougier-2 mp3, Ogg Vorbis
Fergus-Rougier-3 mp3, Ogg Vorbis
Fergus-Rougier-4 mp3, Ogg Vorbis
Verity-Parker-Ah mp3, Ogg Vorbis
Verity-Parker-Sneeze mp3, Ogg Vorbis
Verity-Parker-Kiss mp3, Ogg Vorbis
Verity-Parker-Teehee mp3, Ogg Vorbis
Verity-Parker-Whistle mp3, Ogg Vorbis
Relevant links
The Royal National Institute of the Blind
Living Streets
Eureka! The Museum for Children in Halifax
Reclaim The Streets
Stock Displays
Photo credits: Living Streets, Fergus Rougier & others